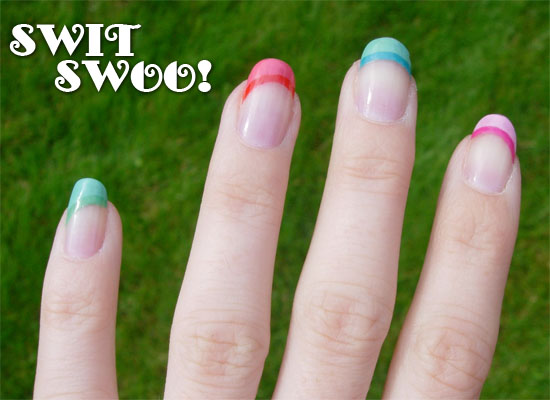 Whenever I read Sophy Robson's blog, there's one manicure that always catches my eye. The header on the British nail maestro's site features a handful of multi-coloured tips on a natural base, and Daiseeboo and I agree that it is fab.
The mani immediately put me in mind of Electric Picnic "that Electric Lightbulb yoke", and I was determined to see if I could replicate the look with a view to wearing it on the weekend itself. I started with Orly Bonder base coat before popping on a layer of Goodbye Yellow, to make sure my natural nails were looking their very spiffiest.
Then, I started on the tips. Working from left to right, I created used two shades from the same colour family for dual colored tips that were asymmetrical on all but the middle fingers. The idea was to replicate the shape of a rainbow when the nails were beside each other. It honestly wasn't difficult, just a bit fiddly, really - I found that not overloading the brush with colour so that it was sharp enough to create a neat edge and thinking a little about the placement of the sides of the tips kept things fairly straightforward.
Advertised
If I hadn't been in such a hurry to try the look and had dug through my stash properly, I could probably have come up with more color combos - and, eh, might have spotted this handy how to *before* I got started. Doh.
What do you think? Would you be tempted to give them a whirl yourself?
I used (L-R):
Darker shade - Barry M Spring Green. Lighter shade - Barry M Mint Green.
Darker shade - Rimmel Coral Romance. Lighter shade - Tammy Taylor Just Peachy.
Darker shade - Rimmel Sky High. Lighter shade - China Glaze For Audrey.
Darker shade - Sally Hansen Fuschia Bling Bling. Lighter shade - Barry M Baby Pink.