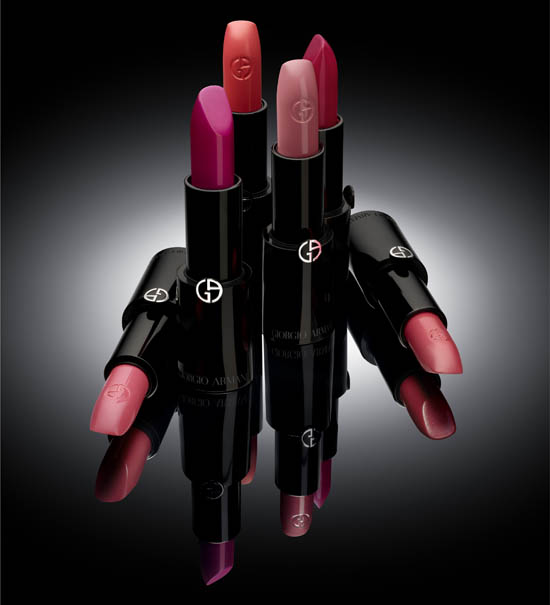 Like fancy cars, you can tell a luxe lipstick by the sound of its closure. Top dollar car doors shut with a satisfyingly expensive thunk - and an expensive lipstick should slip closed with a pleasingly audible snap.  In the case of the Hot collection lipsticks from Giorgio Armani, that means fabulous weighty packaging with an amazingly satisfyingly magnetised click-clunk closure that you'd nearly pay good money for solo.
Helps that the shades are nice too, naturally.
The limited edition six-strong collection across the gamut of bright pink to coral and red land at Giorgio Armani counters on 7th August are on counter now and will supplement the Rouge D'Armani line until they sell out.  That'll be approx five minutes by my reckoning: these lippies are lovely.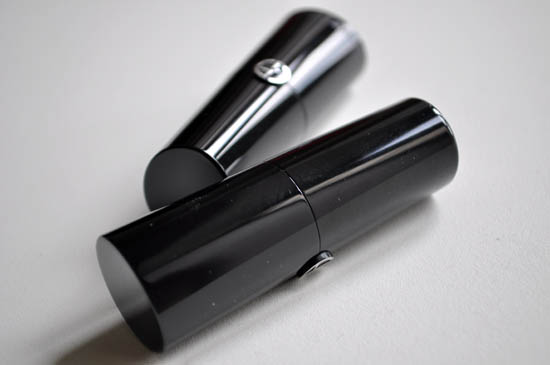 At €26, they're Giorgio Armani priced too, but this is of course a luxury line so you get what you pay for.  The aforementioned packaging is weighty, glossy and uber-black. Pure handbag candy.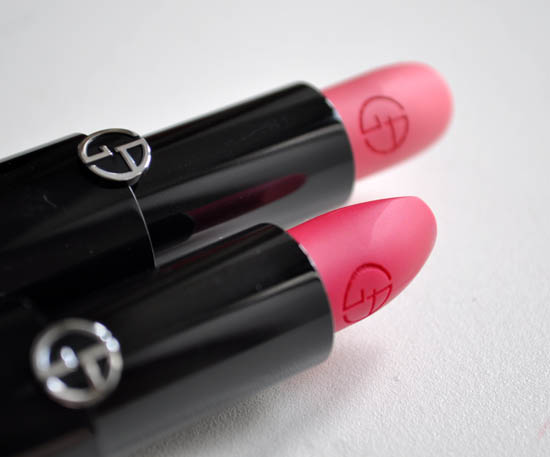 And the bullets themselves? The brand sent me two shades to check out, 523 (top) and 520 (bottom). One's a hot pink and one's a pink that tends slightly more towards the peachy-coral side of things. Both are very me - well hey, a collection of hot pinks is always gonna find favour, so cheers for that, Giorgio.
Advertised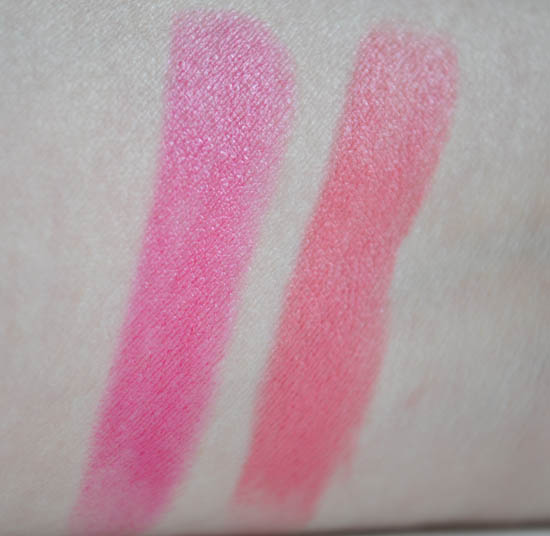 Swatches: 520 on the left and 523 on the right.
These are not full-on creamy-dreamy opaque lipsticks which drench lips with saturated colour. They deliver a fairly sheer-to-medium result which you can layer for more colour. That makes them really wearable actually, and adjustable.  Definitely a good bet for lipstick nervos with deep pockets: one application gives you a light result that's pretty but not remotely scary or hard to pull off. The other benefit is while the result might not be madly in yer face, the wear time is very good and they feel comfortable on.
I'm wearing 520 in yesterday's FOTD alongwith Mac's blingin' Golden Gaze and I didn't want too much on my lips with that, but a quick swipe was enough for a light stain of colour.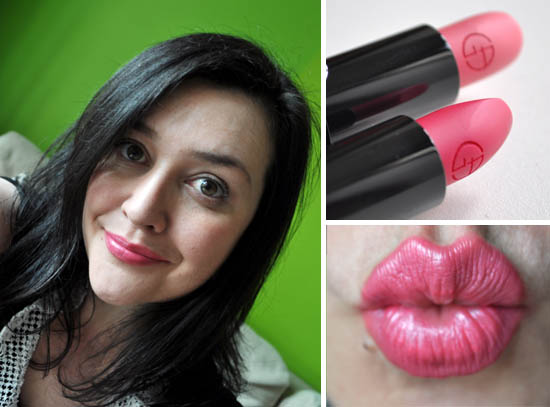 And this here is a good few coats of 523 layered up so it's completely opaque. This is a nice daytime shade and it's the one I decided to do for the FOTD because hey, I'm forever pouting into feckin' cameras with fuchsia lipstick on, aren't I? And you're equally feckin' sick of my pursed-up mug beaming out at you smug-style, so lets have a paler pink for the lesser Cam Whoring today.
I like this - there's actually a slight hint of pearlesence in both of these lipsticks which normally would give me a funny turn and necessitate the bringing out of the smelling salts.  It's so subtle in these that it's not putting me in mind of that frightening old Leather Lady from There's Something About Mary and her pearlised pout either. Thanks be to jaysis for that, eh?
Advertised
So, to summarise: if you would like an elegant lady pink that's not scary and you have the cash to splurge on luxury lipstick then these are a great pick. However, I couldn't be more aware that we're in the middle of a horrible recession and you can buy about 10 Essence bullets for the same price - so really this is one of those "if it's worth it to you" purchases.
If you love the colours but can't stomach the cost, then Bourjois' Sweet Kiss and Sweet Kiss Naturel lines have some similar shades, look at Catrice too, as its new lipsticks are great and 17's Mirror Shine On Lipstick range has sheer brights with lots of gloss for far less cash.