 For me, Armani has always represented a strong yet feminine brand while also being somewhat timeless. I remember the excitement around the launch of the make up counter opening in Brown Thomas all those years ago. Memories...
I'm rarely disappointed by what Armani have to offer to the make up world, their products are always well thought out, high quality, and heavily pigmented and the word "luxury" often comes to mind when I think about the brand. As a lot of you will well know, Armani's foundation is one of the most talked about and coveted among beauty bloggers and make up artists.
I've been busy trying new lip lovelies that arrived on my lap earlier this week - and they really live up to the luxurious tag. So...you'll be happy to know that Armani have just launched Ecstasy Lacquer in Ireland, exclusive to Brown Thomas!
This is a seriously unique product in that it can be worn in two ways, as a lip stain or gloss depending on how much you apply. The formula is not sticky and it lasts all. Day. Long. No kidding.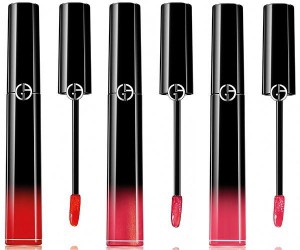 Advertised
I am a serious lover of the multi-use product - as it is less product I have to carry around in my kit! - so I am happy to report that this one does exactly what it says on the tin. I applied it yesterday afternoon after lunch, and got home from Beaut HQ after 8.00 pm. I washed and blow dried my dog (one of his favorite things)  hoovered my room and before my shower, I released it was still perfectly intact, and I actually had to work hard at removing it. I also had forgotten I even had it on which is always a good thing.
The positives of this product are:
It has a high shine
It can be a stain or gloss
It lasts all day
It moisturizes the lips
It isn't sticky
It comes in 18 shades
But what is the price I hear you ask? €31.50 exclusively from Brown Thomas.
Whats your favorite lip gloss? Does this sound like it might possibly replace it? Let us know by commenting in the box below!