 Semi-permanent makeup continues to grow in popularity but not all jobs are equal...
Semi-permanent brows is the biggest beauty trend to hit Irish shores this year. Most of our office has them, and celebrities like Pippa O'Connor and Michelle Keaton are on the bandwagon, too. They both chose the Phi Brow method (which is what I practice myself), a micro-blading method that creates hyper-realistic hair strokes using an extremely slim blade.
Besides Phi Brows, there are many forms of semi-permanent makeup and many different artists. It's great to have a variety, of course. Unfortunately, it also means that not all semi-permanent jobs are exactly equal.
Over the last 14 years of working in makeup and eyebrows, I have come across some of the best and worst of semi-permanent work, and let me tell you, eyebrow disasters happen. Up until now the only option to fix bad semi-permanent brows was laser. It works, but it comes with a price. If you undergo a laser removal treatment, your hair follicles can be burned off too; not ideal for the eyebrow area.
Now, thankfully, the Phi Brow Academy has introduced Phi Removal, the latest technology in tattoo removal. It's pain-free and I believe it's the best and safest method for removing poor quality or old permanent makeup (PMU).
The results speak for themselves.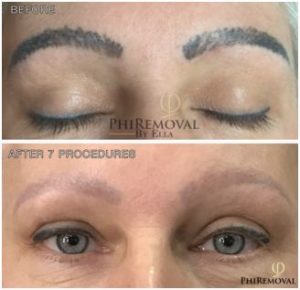 Advertised
This treatment is perfect for people who have uneven PMU, old-fashioned PMU, asymmetric brows, uneven pigment, pigment migration, or anyone who is dissatisfied with their semi-permanent makeup in general.

The treatment involves work in the top layer of the skin where an extraction formula is applied. This formula draws the pigment out of the skin, and you can visibly see the pigment coming out. After the treatment, a scab is formed containing more tattoo ink. This will naturally fall off taking the pigment with it.
Depending on the depth and shade of the tattoo you want to be removed, you will have to have a series of treatments. The process can be done on small body tattoos also.
The price for the first treatment is €350 (€170 thereafter) making it a lot more affordable than laser. It's currently available from my salon, www.empowerbyaisling.com, and you lucky Beaut.ie readers can get 20% off (for a limited time only) when you quote #Beaut.
Advertised
What is the worst eyebrow disaster you have ever seen?