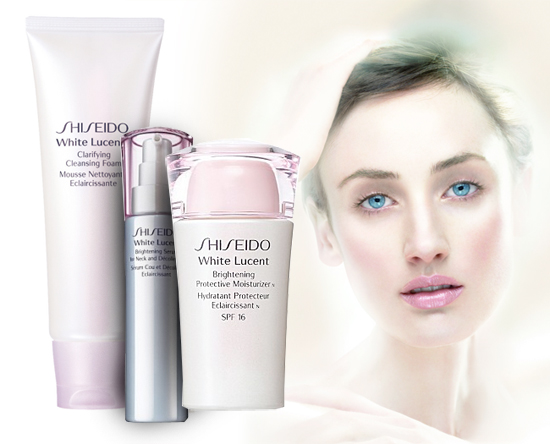 By Shauna McDermott, swiftly approaching skincare-junkie status

Ah fancy skincare products, how I love thee! With my 30th birthday rapidly approaching (eek), I have been pondering my skin a lot more than I used to - I have fairly youthful looking skin, but perhaps it's time to stop taking that for granted! So I was only delira to be asked to trial the new skincare range by Shiseido, a brand I had heard of, but had never had the pleasure of using before.
Their new White Lucency range includes a number of skincare products: moisturisers, serum, eye cream, softeners and so on, which will brighten tired skin and reduce sun damage. According to the blurb on their website: "It uses ground breaking technology to deliver lustrous skin that is irresistibly touchable."
Hmmm, that's quite the claim there then! Could my Cleansing foam €30, Brightening Serum, €75, and Protective Day Emulsion, €52, live up to that billing?!! The products are impressively packaged, using elegant colours like soft pinks and creams, and are sufficiently sized to last several months.
My initial impressions were very good, I must say - the cleansing foam had a fresh, light smell, was white in colour, and had the consistency of a cream. Applied to a damp face and neck, it spreads easily to form a satisfyingly thick paste. I left it on for a minute or two, then rinsed it off. My face immediately felt clean and healthy, and unlike many other cleansers I had tried before, it did not dry out my skin, which was a pleasant surprise.
Advertised
To be honest I always thought serum was some kind of "extra" product, like toner, that skin-care companies made you believe you needed, when you didn't really. This one though is specifically for your "neck and décolletage" area, which can often be overlooked, but which still needs the same amount of attention as your face, to prevent sagging and wrinkles in later years. So the Brightening Serum, was duly applied to my, er neck and décolletage area, straight after the cleansing foam. It has a loose, wet consistency, so not much is needed at all. It dries in after a minute or two, and felt light and fresh on my skin.
Finally, the Protective Day Emulsion comes in a fabulous chunky little bottle, and it too has a light, fragrant smell. It spread well on my skin, being neither too oily nor gloopy nor too dry. It has an SPF 15 and kept my skin feeling noticeably softer all day.
So after the first go with all three products, my skin felt super clean, fresh, brighter and definitely hydrated.
Could that last? And would there be any downsides after a couple of weeks?
Impressively no, after several weeks, my skin felt bizarrely soft, all that cleansing and moisturizing clearly does work, and I found myself occasionally touching my face in wonder at the new softness to be found there!
In addition, my skin continually felt clean and healthy, and the three step routine in the mornings really served to wake me up and shake the sleep from my head!
Advertised
The only bad thing I would say about it is, don't let the cleanser get into your eyes, even a tiny bit stings like the bejesus, and as a contact lens wearer, my eyes are well used to being irritated. But hey, apart from that minor issue, it's a fabulous set of products that, for once, does do exactly what the marketing blurb says it will.
As a high-end skincare line, it might be a little bit pricey to some, but after using it for few weeks, and having received several compliments about my skin lately, I can happily say it's worth every penny!