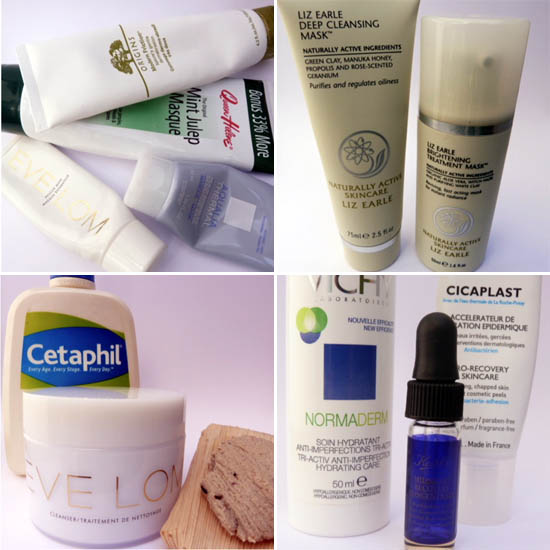 Following on from last week's virtual peek inside my make-up bag where we had a poke around at the products I use to keep slap on my slippery mush, I'm back with another show and tell. It's dedicated to the skincare end of my routine, and it's a post that I've been putting off for the longest time because I very much feel that most of that routine is a work in progress.
I've yet to discover the wonder products that will take me from sometimes spotty sensitive oil slick to clear-skinned goddess overnight – my suspicion is that they don't exist, but I'll let you know if I discover that they do – but here's what I'm liking in the meantime.
1. Cleanse
In the mornings, I alternate between Lush Angels On Bare Skin when my skin's being a bit temperamental, and Cetaphil (or plain ol' lukewarm water) when it's behaving itself.
It's not for everyone's skin or pocket, I know, but Eve Lom Cleansing Balm is my holy grail cleanser/make-up remover in the PM. It whips off all traces of make-up, including waterproof mascara, with ease, never leaves skin feeling dry or tight after use, and helps to keep blemishes at bay. This is the product that makes the single biggest difference to my skin, and although I'm tempted away from Eve Lom on a regular-ish basis by something new and shiny I always run crying back to my pot of reliable yellow-green herby goo when the pretenders to its throne prove incapable of keeping my complexion on an even keel.
2. Moisturise
Advertised
For daytime, I like an oil-free mattifying hydrating moisturiser that can simultaneously handle my dehydrated patches and my high-volume oil fields, and it gets bonus points if it also contains ingredients to reduce and prevent blemishes. Vichy Normaderm moisturisers do all the above and Normaderm Anti-Age is my steadfast go-to in this field, the product I always return to when others disappoint and leave me with a chin full of Face Cheese.
At night, I'm all about nourishing without clogging pores but my skin doesn't seem to appreciate that that's what I'm trying to do. As a result, I generally stick with La Roche Posay Cicaplast and then press on two-to-three drops of Kiehl's Midnight Recovery Concentrate a couple of times a week.
3. Treat
Twice a week, I'll exfoliate with Origins Modern Friction to remove dead skin cells and help keep pores clear; I like that I can dial its intensity up and down by using it wet or dry depending on how sensitive my skin is. Once a week (or when it occurs to me) I'll use a clay-based mask like Liz Earle Deep Cleansing Mask, Queen Helene Mint Julep Mask, or Eve Lom Rescue Mask to suck out excess oil and impurities.
Occasionally, if my skin's looking a bit parched, dull, or tired I'll slap on something like Dermalogica Multivitamin Power Recovery Mask or Vichy Aqualia Thermal Mask (or Liz Earle Skin Brightening Treatment, which works in two minutes, if it needs a quick pick-me-up.)
All the products I've mentioned are long-standing regulars in my fairly routine, ones that I've repurchased time and again for the simple reason that they work better with my skin than others that I've trialled. They're the products that I'm using right now, the ones that are currently keeping my skin in decent nick, but all live in constant fear of being retired from my bathroom cabinet should something more awesome come along.
Advertised
What are your tried and trusted skincare faves for keeping your problem skin in check?