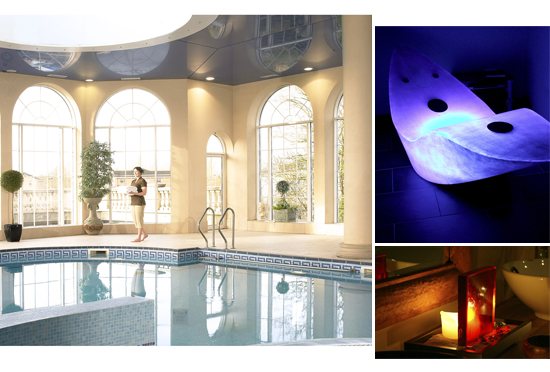 Ah, county Offaly. Slap bang in the heart of the midlands, it's not just home to Biffo, Clonmacnoise, and Tullamore Dew, y'know:  nestled in the depths of Tullamore's Bridge House Hotel is the Sanctuary Spa, a little haven of relaxation and pampering. Staffed by the friendliest, nicest therapists I think I've ever come across, the spa is softly lit and decorated in restful chocolates and taupes so that a chillaxed state is induced pretty much on entering its double doors.
Myself and Himself headed over last weekend to take the place for a test drive; cue much oohing and aahing from the girls in work who had nothing but good things to say about The Bridge House. We checked in (late - despite only living over the road in Portarlington, oops) and made our way to our home away from home for the night, which turned out to be a suite. Far from suites we were reared!  "We've arrived" I breathed to Himself.
Across the hotel, staff are uniformly lovely and genuinely interested in looking after guests, which makes a refreshing change from the usual dour-faced peeps who I thought had taken over the hospitality industry. When I requested a mojito in the library bar without first having looked at the menu, I thought I caught a teeny tiny flicker of worry cross our waiter's face but he took my order with aplomb: the bar manager was over a few minutes later to apologise profusely for not being able to deliver my mojito. Turns out it's not actually on their cocktail menu, a fact which everyone very graciously skirted around, and the lads were sure they'd be able to come up with some fresh mint to make it happen.  A trip to the kitchen and then to Dunnes Stores saw them coming up empty handed, but I was blown away by the fact that they had put themselves out to that extent to try and cater for an order that would have had staff in most places rolling their eyes and tapping the cocktail menu.
Mortified at the work I'd put on the lads in the bar, we made a beeline for the hotel's main restaurant where we were majorly impressed with the quality and presentation of the grub.
Advertised
But of course we didn't just eat and drink our way around the place and look in on the spa: we had a couple of treatments too. I had a really great full body massage, €75, followed by an hour long facial, €80, using the spa's [comfort zone] range, during which I, er, fell fast asleep. My facial was tailored precisely to my skin, drawing elements from the Recover Touch anti-oxident vitamin facial to rehydrate and add radiance to my dessicated and dull forehead, cheeks and nose, and the Active Pureness Regenerating facial for problematic skin to purify my broken-out chin. Fruit acids were used for a deep but gentle exfoliation, and I was well chuffed with the cooling eye mask, €15 as a facial add on, and lush lip mask, also €15, that I was treated to while my mask proper set. Even Himself commented after his back, neck and shoulder massage, €45, that the dark bits under my eyes were gone. Re-sult!
We took turns in The Egg, €15, which is a stand alone enclosed relaxation chamber and is, funnily enough, decidedly ovoid in shape. Inside is an automated massage bed that pummels and pounds and kneads and every inch of flesh from lower calves to shoulders for 15 minutes while LED stars twinkle in the otherwise complete darkness and relax-y music plays by your ears. And, well, I fell asleep here too. Himself was pretty sceptical about the merits of the Egg, but I know quite a few people who refuse to have massages because the idea of another person touching them freaks them out totally, and I think that this system would be ideal for them.
We floated up to lunch (the fanciest ham and cheese toasties I've ever come across, by the by) and have promised ourselves a return trip.
Well, we're practically neighbours. It'd be rude not to.
The Bridge House Hotel, Tullamore, County Offaly, 057 932 5600; www.bridgehouse.com