 I have a very sweet tooth. I've never met a sugary snack that I didn't like and this is kind of how I feel about the upcoming launch from Sally Hansen. 
Designer Natalie B Coleman has collaborated with Sally Hansen to create six new Complete Salon Manicure shades, perfect for Spring Summer '15. The collection is designed to reflect Coleman's latest collection, full of luxurious prints and textured fabrics.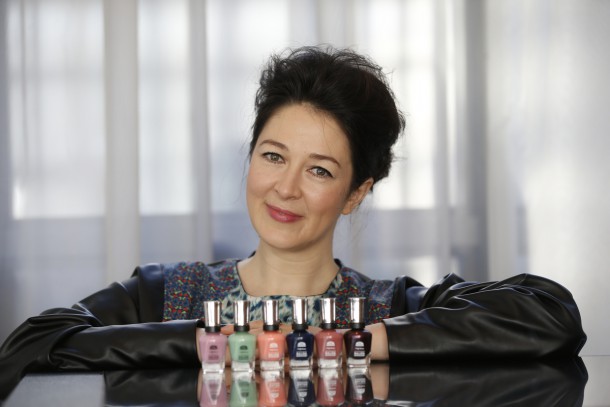 The collection is divided into two colourful camps - soft, feminine tones and contrasting luxurious brights. 
The pastels are bang on trend for SS15 and I'll be wearing these as soon as, you know, the SNOW goes away. The three shades are:
Enchanté: deep, rose pink 
Peach of Cake: soft peach with coral undertones
Advertised
 And if brights are more your thing, there are three strongly pigmented beauties to choose from (all polishes are €8.95):
Belle of the Ball - deep purple shimmer that catches the light with flecks of gold (it looks matte in the pic below but it is far more beautiful and eye catching)
Nightwatch - the perfect midnight navy blue 
Sgt Preppy - cotton candy pink with a mauve undertone
My favourites are Moheato - possibly for the name and possibly because it will be perfect on pedicured hooves when they are released into the sunlight - and also the cotton candy Sgt Preppy. The latter is girly sweet and Natalie says it reminds her of Sweet Valley High crossed with Dynasty.
Advertised
And let's be honest, if any two ideas were to attract my attention, it would be those involving Elizabeth and Jessica Wakefield and Joan Collins' shoulder pads.
So tell us, do you have a plethora of polishes that you switch up depending on the season? And are any of these babies catching your eye? And be careful of that eye, Joan's shoulder pad could have it out.