 There are few products more comforting and effective on the skin than a nice facial oil, and generally, we use oils at night. I swear by a night oil - regardless of skin type - for minimising (red scarring), nourishing the skin and keeping it comfortable. Oils aren't going to help with dehydration (unless they contain a hydrating layer that you need to shake to incorporate into the oil), but there's nothing like an oil for eliminating classically dry or distressed skin. Oils are soothing, luxuriant to use, and brilliant for the skin.
Kiehl's Midnight Recovery Concentrate is a cult night time product. It's a sort of oil/serum hybrid, but I love it for sealing in serums and soothing angry skin. A lot of dry-skinned people will do the same, but it often doesn't occur to them that oils can also be great for day. As a daytime addition to the range, Kiehl's are releasing Daily Reviving Concentrate.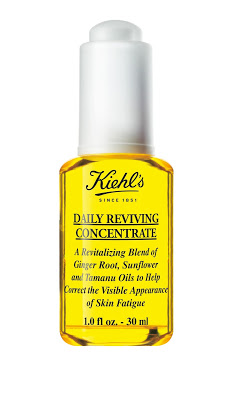 If your skin is genuinely dry, a very small amount of oil rubbed into palms and pressed onto the skin will really help makeup to sit better, and keep skin optimally moisturised - if you have dry skin, hardworking products applied only at night might not always be enough.
Advertised
This oil is glorious. Citrus and ginger oils are lovely on the skin, but create a deliciously zingy fragrance that wakes you up and calms you down all at once - I always wake up semi-conscious but inexplicably stressed, as though I've forgotten something important. Squalene - though some people dislike it as an ingredient - is helpful for genuinely dry (as opposed to dehydrated) skin as it mimics the skin's natural sebum, which dry people don't have enough of.
This will work swimmingly for night time too, but it's a lovely option for day, and when massaged into flaky patches, will prevent makeup from sitting in them. That trick has saved my face on many a crispy day.
Kiehl's Daily Reviving Concentrate will be available from Kiehl's stockists from August 24th at €42.50. you a facial oil person? Would you wear it during the day? Share your thoughts in the comments!