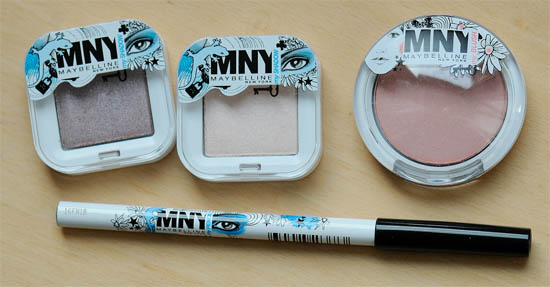 I'll start this post with a disclaimer: I know I'm being a bit of a tease since this line isn't available in Ireland yet, but from what I've read it's due to launch in the UK later this year, so hopefully we'll get it here sometime soon. In the meantime, look out for it if you're in Germany, Austria, Switzerland!
It may sound mundane, but I do love having a wander around the local chemist/drugstore-type shops whenever I'm abroad. I love finding unfamiliar brands and cool little gizmos that we don't get here. I hit gold on a recent trip to Austria when I came across a new line by Maybelline called MNY. Aimed squarely at the teenage market, the bargainous prices convinced me it was worth a try, so I picked up a few bits and pieces to see how they were.
The products: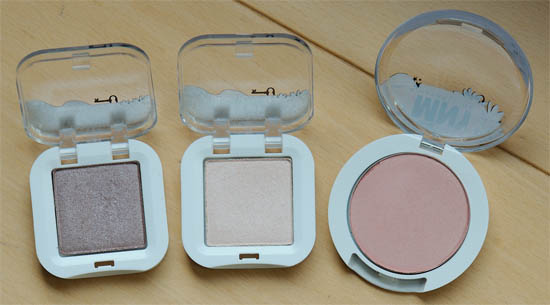 Eye shadow, eye pencil, blush, lipgloss, tinted lip balm and nail polish. No base products, no mascara, no lipstick. I tried out the shadow, blush and eye pencil. The lipglosses were all a bit sparkly for my tastes and the tinted balms looked too much like tinted Nivea or Labello lipbalms and didn't interest me at all.
The colours:
Interestingly, the products are grouped into colour families and displayed in shade gradients, which makes it very easy to choose coordinating colours. Colours range from neutrals to brights, with a very extensive range of eye shadow and nail polish shades. I picked up eye shadows in champagne beige and shimmery taupe and a blush in peachy pink with fine gold shimmer as well as a black eye pencil.
Limited edition collections are also a regular part of the line, with the current one including khaki greens and bronzes. In terms of what we have available to us in Ireland, I'd probably compare the colour range to the likes of Urban Decay or Bourjois, but the price point is much more attractive if you're feeling experimental.
The prices:
Advertised
Eye shadows and eye pencils for €1.95, blush for €2.95 - you can see why I was easily tempted to try. Nothing in this line costs more than €3.95, making it ideal for experimenting with different colours or just picking up a few new bits when you feel like a change. For under €10 I managed to get two eye shadows, a blush and an eye pencil. Pricewise I think Essence or Catrice are on a similar level here.
The quality:
Now this is where I thought the products might fall down. While I generally prefer higher-end beauty products, there are some cheaper products I've tried which work for me, though I don't think I've ever found anything quite as cheap as this line. I went in with low expectations, but was pleasantly surprised. The textures are smooth and easy to work with and the lasting power is good.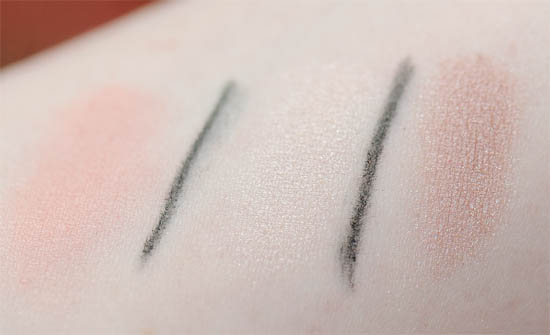 l-r: My Blush in 305A, My Pencil in 001, My Shadow in 309 and 441
The eye shadows are available in shimmer, matte, pearl and glitter finishes; blush in shimmer and pearl. When applied over a base, the eye shadows I tried lasted well, with minimal colour transfer, though I did get some shimmer fallout. The blush was fairly sheer in finish, but the fine shimmer gave it a pretty, glowy look. Most cheap eye pencils I've tried in the past have been very hard and difficult to apply comfortably, but this one has a nice soft texture and applies easily, but also lasts very well without smudging everywhere.
Overall, in fact, I think I'd happily believe these were more expensive products in a blind test. These swatches were layered fairly heavily to get them to show up in the picture, but I was happy with the colour payoff I achieved when applying them with my own brushes.
The packaging:
On the plus side, all products come with clear lids, so you can find the colour you're looking for easily. I also like the art school-type doodling used to decorate all the products. Apart from that, the packaging is standard lightweight plastic packaging - nothing fancy, but it does the job.
Advertised
Overall, this is an interesting line and I imagine it will do well if and when it launches here. What do you think - would you give it a go?