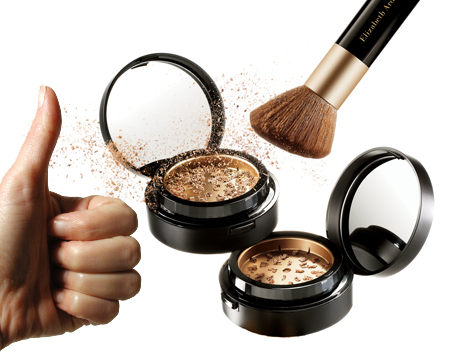 It's a foundation with a built-in grater - so the makeup you apply is fresh every single time. The minerals aren't already ground into powder as they are with other mineral foundations.
It just takes a twist of this generously chunky compact to grate enough pure mineral foundation to make you up to perfection. There's no mess - the grater only dispenses a tiny amount of powder every time.
The problem I've found with many mineral foundations is that there's just not enough coverage for me. When I put on makeup I want to feel secure that it's covering up any uneven tones or possible, er, imperfections. This mineral makeup impressed me instantly with its great coverage - in fact it easily covered up a rather nasty blemish. Not that I will ever admit to having one of these - thats the magic of makeup.
Advertised
Although mineral makeup is really best suited to oily or combo skin this is a good one to try if you've got drier or sensitive skin.  No talc and the inclusion of moisture loving ingredients are a bonus. And a big plus point - a physical sunblock (titanium dioxiode) figures in the mix to give this foundation a natural SPF20.
By the power vested in me by Beaut.ie I was able to give this a good early trial for you (how generous of me!) and it's a thumbs up. It'll be available in a couple of weeks - give it a go if you haven't been convinced by mineral foundation so far.
Pure Finish Mineral Powder foundation (€30) will be available from Boots and department stores from Feb 2009.