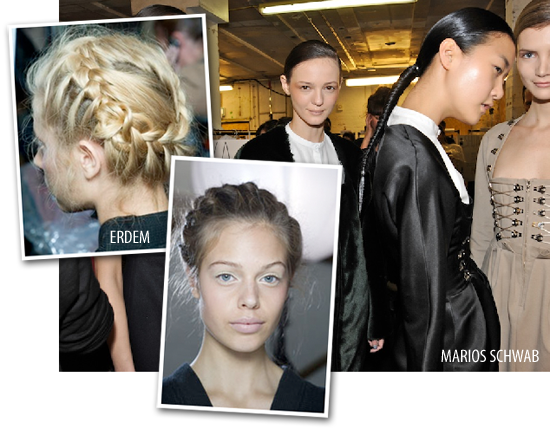 In news that will not come as a surprise to anyone who's kept an eye on summer hair trends over the last couple of years, plaits are, like, so hot right now.
(Again)
At first glance, the SS11 incarnations aren't a whole heck of a lot different to their 2010 and 2009 predecessors. Long single plaits that start low at the nape of the neck and Heidi-type wraparound braids: you'd be forgiven for déjà vu-ing al over the gaff. On closer inspection squinting through a high-powered magnifying glass, though, the single plaits at Marios Schwab revealed themselves to be fishtail versions while the wistful wraparound numbers at Erdem were actually more French braid than milkmaid.
Both take practice (and more than a little patience!) to get right, but they are do-able - and here's how.
The Fishtail/Herringbone
Advertised
If hair's just been freshly washed, get some product into it to remove that just-washed slip and make it easier to style - Batiste will do the job nicely.
Gather hair low at the back of the neck (or over one shoulder) and divide into two equal sections, on which you'll need to keep a firm grip at all times if you're after a precise finish.
And this is where it gets, um, involved. Make a small piece of hair from underneath the left section, bring it up and across that left section, and pull it quite tightly into the right hand side section (you could comb and run a small dab of serum through each section to keep things really neat.)
Then take a similarly sized small piece of hair from underneath the right section, bring it up and across that right section, and pass it into the left hand side section.
Repeat, alternating between the sides until you reach the end of the plait.
For a more casual look, which I've decided is nice and summery (and, er, not just all I'm really able to manage - honest injun), you needn't be so pernickity about keeping order as you do the plaiting. You can also use your hands or a bristle brush when the plait's done, working from tip to root to gently coax a bit of texture into your fishtail.
The Wraparound French/Crown Braid
If you can rope in an extra pair of capable hands to help you with his plait, do! If not, well, be prepared to spend a lot of time with your head tilted to one side and remove all breakables from the vicinity. You will almost certainly want to throw something before you get through with it.
It's nearly always the first step in any undo and here it is again: remove slip from freshly-washed hair with a texturising product or birrov your trusty dry shampoo. Ensure hair is completely tangle-free.
Use the tail of a backcombing brush to make a part from ear to ear - not straight around the back of your head but up across the crown, roughly where you want the plait to end up. Flip the front section forwards, over your forehead - this is where things get crick-tastic. You'll be using hair from both sides of the parting to create the plait. Section off some hair from the lower portion of hair with which to start the braid.
Begin behind one of your ears and, well, start braiding! Work towards the forehead, alternately pulling in small sections from behind and in front of the part as you go. Continue around the crown creating a French braid, but don't pull the strands too tightly - the look is '70s boho rather than sleek or overly sweet. Tie ends with a small subtle bobbin when you get that far, and then pin into place.
Pic credits: cosmopolitan.co.uk, st-tropez.com; charlesworthington.com