 Fake tan is my dirty little beauty secret. It's mortifyingly uncool, especially for a beauty writer, but there's just no denying that I'm a fan of a good bottled golden glow and I make no excuses for it. Running out of my usual go-to tan (St. Tropez Bronzing Mousse) a couple of weeks ago gave me the perfect excuse opportunity to kit myself out with a bottle of the new St. Tropez Dark and take it for a spin.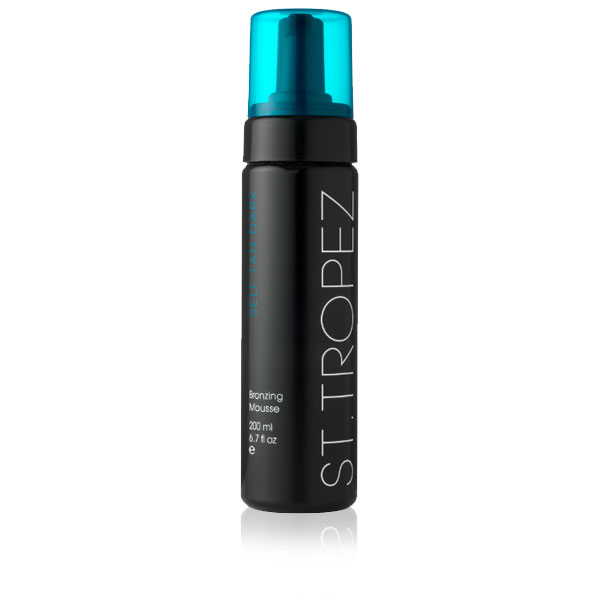 While I'm really very pale, my preference is for more than a hint of colour and I would always have used two layers of the original mousse to get to my desired depth of tan before a wedding or other event (enough to achieve a could-be-just-back-from-holidays colour; not so much to leave me looking like an extra on Geordie Shore.) This Dark version is geared towards those who prefer a deeper tan - the name gives it away, really - and it sounded like it might be right up my street.
The St. Tropez range has veritably exploded in the last couple of years from a modest but wildly popular initial line-up to include instant, wash off tans, gradual tans, tan-related body products like moisturisers and scrubs and bronzers (oh my!) Dark marks the latest expansion of the range and is available in a couple of formulations, including a lotion and a spray, but I opted to stick with the mousse because I find it easiest to blend and achieve the most even coverage. The black packaging means that it looks, quite frankly, terrifying and the guide colour is equally scary: a mahogany brown with unmistakable green undertones.
I felt like a dirty giant Mint Crisp while I was waiting for it to develop.
Advertised
That green hue ensures no yellow/orange undertones in the tan but definitely make Dark an overnighter. I have, in a tan-mergency, been known to slap on the original mousse in the morning, wear it all day while I go about my business (and thanks to St. Tropez Aromaguard technology, only those with the absolute most finely attuned smellers could guess what I was up to) but there's no hope of pulling a stunt like that with the Dark mousse. Apart from the panic-inducing guide colour, it's a bit more whiffy (although still nowhere near as bad as most other tans.)
On showering 8 hours and a sleep later, the tan underneath wasn't quite as dramatic as feared/hoped, depending on your point of view.  I 'd say that St. Tropez Bronzing Mousse in Dark gives a colour result that's about 1.5 times darker than a single application of the normal mousse. And while I was several shades darker than my own skintone, it still looked quite natural - I hadn't moved into another ethnicity bracket - like the colour I imagine my skin might turn if I spent a couple of weeks in the summer working on a dude ranch in Wyoming. (I am actually writing this as I sit in Jackson Hole, Wyoming, which might explain that very random analogy.)
The end result gets a definite thumbs up but I have one big gripe with the product itself.  That's the ouch-y price tag, and for your €40 you only get 200ml of tan, compared to the €38 odd quid I paid in Debenhams for my last 240ml bottle of the original. You might come out on top over time on a cost-per-application basis since fewer layers would be required to achieve a deeper colour result, but that initial hit to the wallet is considerable.