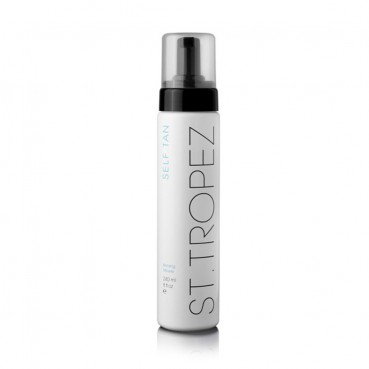 I've been trying to remember when I last used a non-gradual, non-rinse off version of St. Tropez. It was donkey's years ago, I reckon, and I'm fairly sure that the associated greenish hue and rank smell while it was developing meant that I really struggled to get to the bottom of it. Oh, and for anyone wondering why I didn't just chuck it out, well, it was really bloody dear and I was a broke student.
'nuff said.
My recent dalliance with it was the result of a last minute supermarket sweep-style mission in the airport Boots while my flight was closing. What can I say, I live life on the edge. But then I didn't bother using the stuff on my hols in the end so the dirty looks from cabin crew and fellow passengers were suffered for nothing.
Once home, I was curious as to whether a new bottle might mean a new formula or improved tanning experience, so sure I had to give it a lash. I'm happy to report that it's neither as smelly nor as swampy-coloured as I remembered. St. Tropez are on to something with their new Aromaguard technology, and the mousse actually smells quite pleasant without being overpowering on application - my untrained nose smelled rose and maybe vanilla, but apparently it should have picked up iris, fresh fruits and violet.
Well, whatever. It's definitely an improvement on soggy stale biscuits.
Advertised
There's not so much as hint of green off it anymore, either. The mousse looked terrifyingly chocolatey right out of the pump, but smoothed on with my trusty mitt there was nothing but a golden glow in evidence. No need to hide away from civilization while St. Tropez develops anymore - huzzah!
It also felt velvety-smooth and even moisturising on skin and was dead easy to blend on my just-outta-the-shower-skin; I put a dab of light body moisturiser on my elbows, the crease under my arms, my knees, ankles and feet after drying myself, but that was it.
Now, it didn't stay completely pong free. As the tan developed, I could detect that tell-tale tan aroma, although it was still far more subtle than any other tan I've tried to date. That would encourage me to continue to use it, because when I do bother to do self-tan, I always put it off to the last possible moment and then end up stinking up the plane/bus/car/ferry/train.
Oh yes: between the developing tan and the holding up of cross-Atlantic flights, I'm a dream to travel with!
Get Beaut.ie Delivered
Stay updated with Beaut.ie newsletters full of the latest happenings at Beaut.ie as well as great offers and things we think you might find interesting .