 Every gal needs a handbag mirror. They're essential for making sure that your face looks perfect and they're also very handy for checking out that handsome guy sitting behind you on the bus. Thanks to that Bus Eireann ad for that previously under exploited usage avenue!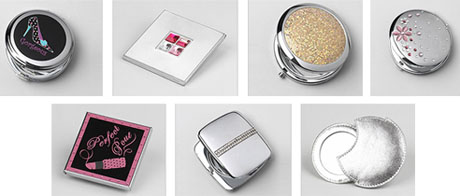 So what's nice in the shops? M&S have a good range of compact mirrors (see above) adorned with glitter, jewels diamante, shoes and lipsticks. Prices start at £5 STG and go up to £9.50 STG. M&S are usually pretty good at the old currency conversion so they'll probably be in and around the €8-€14 mark. A note on the lack of Euro pricing on their site - for a couple of years there, Ireland was the only territory in which they were making a profit, and yet they STILL won't give us a site where it's possible to check prices! Grrr!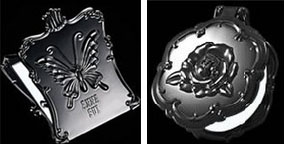 Advertised
If you want to spend a bit more, check out these fabulous mirrors (above) by Anna Sui from wowwoman.com. They are just gorgeous! The one on the left is €16.99 €25.99 and the one on the right is €17.49 €26.49 - both come with with free shipping, yay!

Debenhams are ready to oblige too - they have some fab designer handbag mirrors on offer on their website (above). In the middle is a glam black diamante studded affair by Julien McDonald, from his Star range for the store for £12 STG, and on the left is a sweet patchwork mirror with a case, by Matthew Williamson. It comes in at £18 STG. If neither of those tickle your fancy, how about the one on the right by John Rocha - it's also £18 STG and is altogether more grown up and sophisticated. Once again though, Nul points to Debenhams for my old bugbear, no Euro prices.