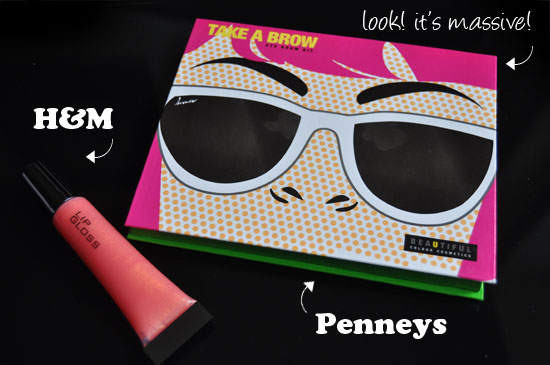 It seems to me that everyone and his mother is sporting an in-store makeup range these days. Now, far be it from me to wonder what gives a boots, blouse and bra merchant any expertise for expansion into the cosmetics field, but I generally write off shop-brand makeup as, eh, crap. Still, my penchant for new, cheap finds spurred me on to see if my instinct was on the money.
H&M
Disappointingly, their lip glosses are of that annoying brush-on, as opposed to sponge-on, variety, and are reminiscent of the sticky, gloopy mess of teenage discos. Avoid like the plague is my advice; ditto the eyeliners. My absolute star find, however, was a delish eyeshadow in a sandy, khaki gold, with a light shimmer. It is divine. They stock some handy makeup bags too, from €3 to €8.
New Look
Advertised
Let me register, straight off the bat, my surprise here; I honestly was not expecting to be impressed with my New Look swag. While Stargazer isn't an exclusive-to-New Look-brand, it would seem I'm going through a bit of an aqua phase, so the Stargazer kohl pencil in number 29, €2.80, is my latest fix. It's a tad too firm to really be a kohl; I suggest warming it up between your hands before applying to prevent any possible scratchiness. The absolute winner for me is the metallic, acidic eyeshadow in Envy Green, €4.90. A primer is absoLUTEly needed, but it is dynamite!
Penneys
Surprise surprise – Penneys enters the mix with a stellar eyebrow kit, €4 … and a not so stellar set of four nail polishes, Beauty Babes, €2.50. Although I proclaim to love all my children equally, my Benefit Brows A-Go-Go kit is usually top of the pile – and I have to say that Take A Brow matches it. I'd throw out the tweezers and stencil, mind.
The nail polishes come in a peach, magenta, icing pink and lavender – all of which need approximately seven million coats, each coat taking the lifespan of an ITV mini-series to dry. Results were chip-free for a week, though.