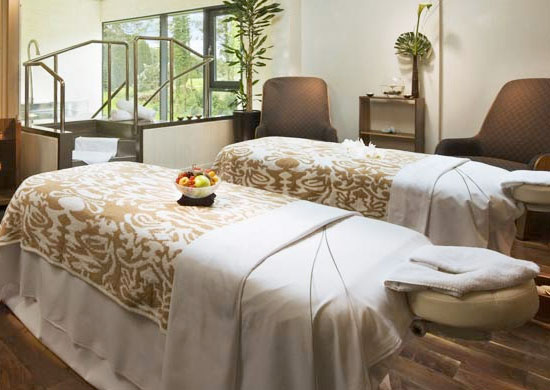 When the ever-elegant Aisling appeared on The Afternoon Show last Wednesday, her TV escapades required me to take one for the team; I was entreated to treat myself, you could say. Mammy in tow and brownie-points abounding, I toddled off to the five-star Castlemartyr Resort, Co. Cork, for an evening of unapologetic splendour.
As the sister hotel to Dromoland Castle, it would be all too easy to wax lyrical about Castlemartyr's fabulous dining, beautiful architecture, friendly people and Jane Austen scenery. After being shown to our bionic room – everything is controlled via keypads in the bedside lockers – we toured the grounds in a horse-drawn carriage, before partaking in a whiskey-tasting master-class. The highlight of the trip, however, was undoubtedly the spa.
Oh, ladies! The facilities here are second to none, with swimming and spa pools, several treatment rooms plus relaxation room. As well as Jessana manicures, beauty treatments are by Anne Semonin. This is a French line which prides itself on its holistic and custom-made approach to cosmetics, meaning my psoriasis was not a problem.
I opted for a mini facial and back massage. For the facial, hot towels were first applied to my neck, before my face was cleansed with botanical milk. After cooling gel and mineral masks, an exfoliating mask was applied. My skin positively glowed afterwards, and remained soft for days.
The massage was incredible; after all my exam stress, I actually fell asleep a few times. From beginning to end, the magic hands of my wonderful therapist, Aoife, never left my back and shoulders and the effect of the continuous heat was sublime.
Advertised
Like all mums, mine is the last to take even five minutes for herself, so I was only delighted to give her an iron-clad reason to relax and be pampered with a full facial and head massage. She loved it, and even left with a bottle of the 100% Active Serum, a product more suited to her skin than the gentle milks.
All that hard work evidently called for a fruity snack, as we were presented with delish smoothies while we reclined in our robes. Bliss.
I say, call that ash cloud's bluff, and take a trip to Castlemartyr.
Castlemartyr Resort, Castlemartyr, Co Cork. 021 421 9000; www.castlemartyrresort.ie