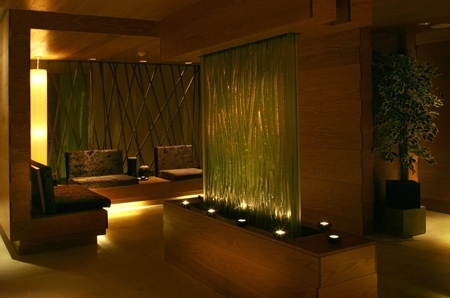 Cruising up the sunlit Shannon at a gentle pace whilst sipping a glass of champagne in the company of beauty editors from various Irish publications didn't seem like a bad way to end the week before last. And it got better - post-boat, we retired to the new Sheraton in Athlone, for an evening of chat, food and wine. Off to bed toddled I, and sank into a 6-footer (no rude thoughts, please) in a 10th floor room with a view out over the town and in the distance, the river. I'd say it was a spectacular panorama, but I'd be fibbing - Athlone not being well known for the variety of its skyline. The room more than made up for that, though: it was only massive, comfortably decorated in contemporary stylings, with a huge en-suite bathroom practically the size of my at-home sitting room.
All this, needless to say, was the precursor to a day of pampering in the hotels' spa, Sirana.

As an Elemis spa, you know it's going to be good from the get-go. It's a luxe range that's found in higher end properties, and this purpose-built baby is a good'un. Decorated in the by-now-ubiquitous palette of soothing neutrals, limestones and dark woods, if you're a regular spa-goer, you immediately feel right at home. It's a nice size - 7 treatment rooms, a generous waiting space and a really good relaxation area make for a spacious zone that never gets too busy or noisy due to the room limit. Water facilities like the pool and hot tub are on the floor below, and to my shame I never found the hamman as I was, er, too busy kicking back and checking out the tunes on the iPod Touch which was by my motorised bed in the relaxation area.
So, the treatments? I had an Elemis Oxygen facial, €85 for an hour, prescribed by the spa manager as a curative for my poor rosy cheeks. It worked, too. Unguents were applied, including the scrummy Papya Enzyme Peel, and afterwards my skin was less reactive looking, calmer and not so horribly tender. It's now heading very much back to normal, which I am very thankful for.
Advertised
Next up was a signature treatment: the Warm Bamboo Massage, €125 for 70 minutes. This one is ideal for fans of hot stone, as heated bamboos are rolled and manipulated across the body. It's relaxing rather than deeply therapeutic, so if you've got a lot of tension that needs to be worked out, then go for something that involves more manipulation, like a deep tissue or Thai massage. For an experience that's gentle and soothing, or for those who don't enjoy more traditional massage, Bamboo is the way to go.
Fancy checking Sirana out? Contact the spa through the hotel at Sheraton Athlone Hotel, Gleeson Street, Athlone, Co Westmeath, 090 645 1000