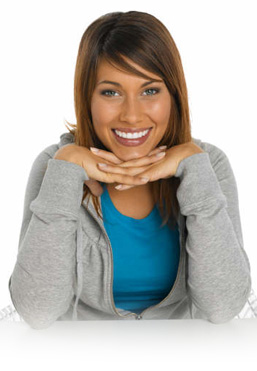 I mentioned on the Blather last week that I was going to the dentist. And I've mentioned a time or twenty in other places that I hate my front teeth. I hate the colour of the two front ones and despite whitening they've refused to budge from beige. Plus there's been some movement in the side ones - I had braces as a teenager but things have moved in the teeth department since then. So now when I get photos taken it looks as though one of them is brown too because it's moved so far back.
In short I hate them. Oh did I say that already?
So when Darren Cromey was recommended to me as the dentist who could give me a teeth makeover and has done so successfully with many others, I hurried off to see him. Perusing the before and after pictures in his waiting room I was astounded by the drastic improvements in the look of teeth after treatment. After taking (horrendous) photos of my gnashers and studying them he made his expert pronouncement.
"Four veneers and retainer behind the top teeth, plus whitening to bring the rest of the teeth up to match."
"Four veneers - is that all?" I was surprised - I thought I'd need a whole mouthful. But apparently that's all it will take to completely change the whole look, and studying the before and after photos I could see that it usually just took a minimal change to completely change someone's smile. The veneers will be made in a lab in LA and moulds were taken there and then of my existing sad teeth.
"Now what we'll do to start off is to use a home whitening kit which will brighten up your teeth to the best colour you can achieve natually. Then we'll get a natural looking match for the veneers on the two front teeth which won't change with whitening. And I want you to think about what shape you'd like the teeth to be - perfectly straight or front teeth slightly longer etc."
Advertised
He showed me pictures of different shapes and combinations of different sized teeth, together with the degrees of whiteness teeth come in. Blindingly white was included.
"Haha once I don't end up looking like Simon Cowell," I said
Darren sprang from his chair to whip a full page photo of Cowell from a cupboard. "Yes!" he said. "I keep this here to show patients what can go wrong if they go too white"
Then we had a good laugh over SC's veneers - which are so white and brick like that they're like the colour of a porcelain bathroom suite. Brings a whole new meaning to the term bog standard.
"But surely he would have so much money he could get them re-done?" we wondered.
Pondering the mystery of the alpha male I toddled off with my whitening kit. I've to use it every second day for three weeks and then we'll be on to the next stage.
I'll be posting up pictures (aieeee) and blogging my journey through whitening, retainer, temporaries and porcelain veneers. So stay tuned! In the meantime I'm happy to answer all and any questions on the comments - so fire ahead.
Advertised
Veneers: €900 per tooth; whitening kit: €300 - €500; retainers vary.
Dr Darren Cromey, 01 4506373, Walkinstown Dental Clinic