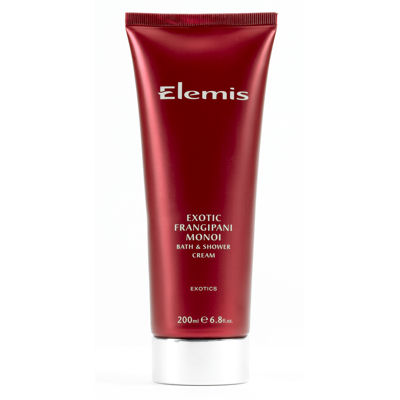 Considering it's something you pour straight down the plughole, is it worth it to splash out on shower gel?
Confession: I'm using Elemis' new Frangipani Monoi Bath & Shower Cream at the moment and it's ... *whisper it* ... thirty two euro bucks.
Jeeeeeee-sus chraaaaaast, eh? While I'll hold my hand up and tell you I got sent it free gratis, I'll also tell you I'd bloody well shell out for it again too. Why? 1. It smells only  beaurrriful. 2. it's completely sulphate-free so while it doesn't foam, it doesn't dry my skin out either. 3. it's thick and gorgeously creamy and a very little goes a long way. 4. you can also use it as a bath product, so it's slightly multi-functional.
Advertised
So yes, I would splash my own cash on it - but I wouldn't use it every day in that case. No, I would save it up for extremely special occasions and follow it with lashings of their matching Monoi Moisture Melt for super-duper hydration and fragrance.
Anyway - tell me if you think I'm mad, or if you think I am 100% sane (I have a feeling I won't like any of the answers, ha!)