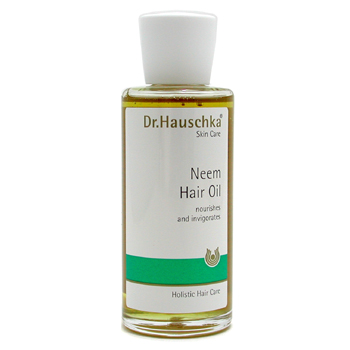 I need some Neem oil I thought to myself eyeing my dried up gruaig. I wonder where my last bottle's gone?
I had memories of the soft and glossy locks that can be the result of Neem Oil immersion. Although I searched high and low I couldn't find the bottle anywhere.
Ho hum I thought. Well okay then I didn't actually think ho hum (as I wasn't in an Enid Blyton book). I said f#*$ $@!3
So I went and bought another bottle and as soon as it arrived I eagerly unwrapped it and soaked my hair with it. "Use a teaspoon or two" read the instructions. "A teaspoon hah" I scoffed, sloshing on as much as possible. Then wrapping my hair in clingfilm, covering my face in night cream and putting in my teeth whitening trays, I retired to my leaba, letting the hours of night (hopefully) improve matters while I slept. My poor husband. I pity that man I really do.
Advertised
Anyway back to the Dr Hauschka Neem Oil. Come the morning I washed it out. And found that it had gone a good way to removing the colour from my hair. What was left in its place was a mess of mixed colours - the result of previous colours, highlights and a strange reddish tone that had suddenly sprung up as if by magic. And an inch of mismatched roots.
So now I remember where that unfinished bottle of Neem Oil went. The bin. And now I remember why it went there. And I also realised that I'd put a cautionary warning on this post three years ago...
Dr Hauschka Neem Oil contains camomile (I should really read labels eh?) which is doubtless the reason it had this effect on my hair. If you're blonde or want to brighten your hair it will probably be fantastic. I will resume my search with another brand.