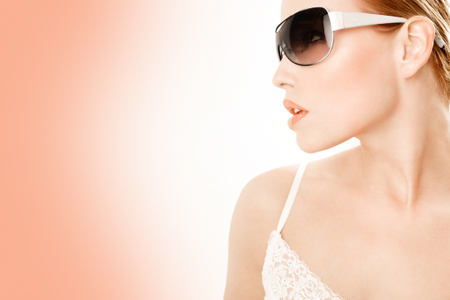 While we haven't quite reached the dizzy heights of a balmy temperatures-in-the-high-teens Irish summer just yet, there has been a definite and most welcome thaw in the air of late. There's a grand stretch in the evenings, be the hokey, and I'm now able to leave the house sans thermal ski underwear most days, which is always nice.
This business of Spring having sprung presents its own seasonal make-up crisis. Oh sure, we're all well briefed about the hottest trends and colours for SS09, but what about your base? If you're inclined to favour a the fuller-coverage foundation during the winter months, you might now find yourself thinking about swapping to something a bit more lightweight.
However, if you're not quite ready to go cold turkey by switching straight over to tinted moisturiser or a sheer base, try mixing your own in-betweeny foundation to get you through. Just mix a bit of luminizer or highlighter through your regular winter-y foundation and you'll be rewarded with a subtle glow without sacrificing too much in the way of coverage.
Advertised
In best Gordon Ramsey voice: Done!