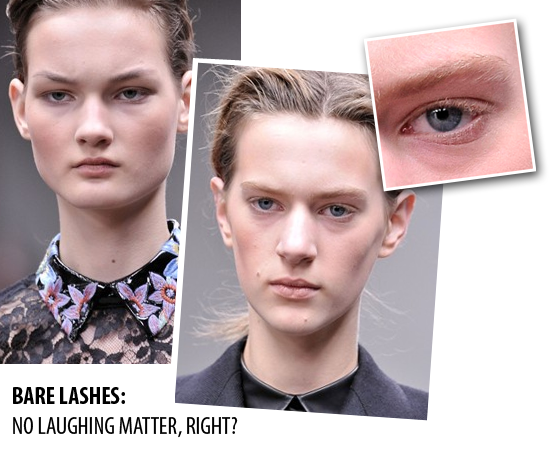 I love a good beauty trend as much as the next girl, me. Coral nails for summer? I'm there. Red lips for winter? Ah, they don't suit me but sure I'll still try them every year. Granny chic grey-lilac pastel hair? Well, I did seriously consider it.
Then there are the looks that are so super editorial and directional that it's impossible to imagine them catching on out in The Real World. Things like mad morning-after eyes aren't meant to be replicated exactly as you see them on the catwalk or in a shoot, though: they're an OTT version of what will eventually filter down to the masses and what you and I might wind up wearing.
However. There's nothing over the top about a look that I've spotted rearing its head lately: the no mascara micro-trend. It was around earlier in the year too, at Matthew Williamson, and now nude, natural lashes are back from outer space as part of the larger move towards minimalist and occasionally androgynous "barely there" make-up at some of the AW10 shows - Christopher Kane (above) and Dries Van Noten were cases in point.
Advertised
While it's refreshing to come across a trend that - in theory, at least - doesn't require you to purchase a new product, given that most women cite mascara as the one product they cannot possibly live without I'm going to tentatively go ahead and file this one under "nah, it'll never catch on."
What do you reckon? Are you tempted to retire your mascara for the season, or will you perhaps be swapping out black for brown (or clear) mascara to channel the look without risking completely looking lashless?
Pix via Vogue.co.uk