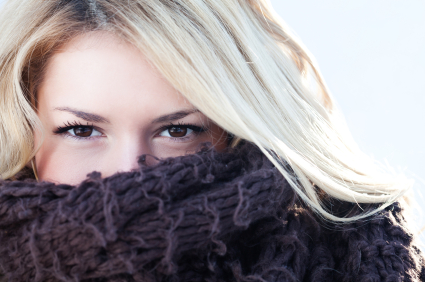 The changing seasons aren't only a pain in the hoop where sartorial choices that might have a hope of coping with the Irish weather are concerned: my skin is already complaining like a Liveline caller about falling temperatures outdoors and the switch-on of central heating indoors. Predictable problems at this time of the year include things like desiccation/dehydration courtesy of the elements and can be often be managed simply enough with a few tweaks to your skincare routine (there are loads of great tips to be had in our previous winter skin savers posts.)
Treating spots effectively without further irritating skin can be a bit more of a nuisance, but there's an easy preventative measure that can help some seasonal spots from putting in an appearance in the first place.
Wash all your winter scarves, snoods, and anything else you might bury your chin in to hide it from the cold right now and regularly throughout the season. Do the same with the hats and headbands you'll probably be wearing daily between now and next April.
Advertised
It's a rudimentary sounding fix, I know, but since these kinds of outerwear accessories don't really get dirty, it's easy to make the assumption that they're clean. The truth is that the invisible-to-the-naked-eye accumulation of miniscule detritus like make-up and oil and dead skin cells - oh my! - on what looks like a clean scarf or the headband of a hat spells trouble for chins and foreheads.
I'm mortified to admit that I slung on my favourite scarf a couple of weeks ago without following my own advice and was rewarded with a chinful of lumps and bumps. What's worse is that it was only really when Himself complained one day recently that my scarf was making me spotty that I was shamed into washing it. (I know. Gross. But it's so cosy, I can hardly bear to do without it for any length of time.)