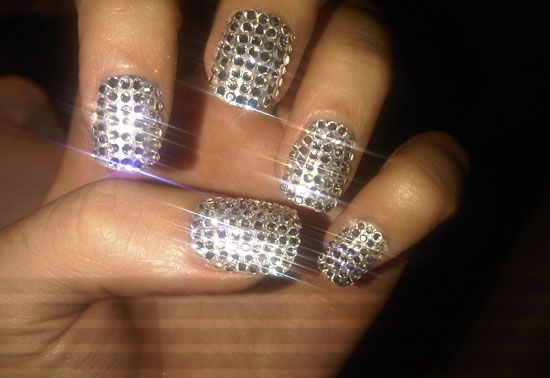 When Katy Perry posted pictures of a particularly sparkly silver manicure on Twitter late last year, I was instantly smitten. I wasn't convinced by her Oompa Loompa or floral Minxed nails, but the Swarovski-encrusted tips that she sported for the VMAs in September and then again for October's MTV Europe Music Awards had me seriously considering getting busy with bagfuls of tiny rhinestones. There were a whopping 76 weeny crystals on Katy's thumbnail alone, each one painstakingly glued into place over CND Silver Chrome nail varnish by the fair hand of celebridee manicurist Kimmie Keyes to create the discoball effect.
Not having days on end to spend doing my nails, regardless of what Dad thinks, I shelved the thought of recreating the look myself until the trend for a single statement nail on each hand emerged. Himself was away last night and I had a packet of rhinestones from Claire's Accessories just begging to be put to good use, so I stuck on Bride Wars, whipped out my pointed tweezers and some nail glue and set to work.
Want to see how it turned out?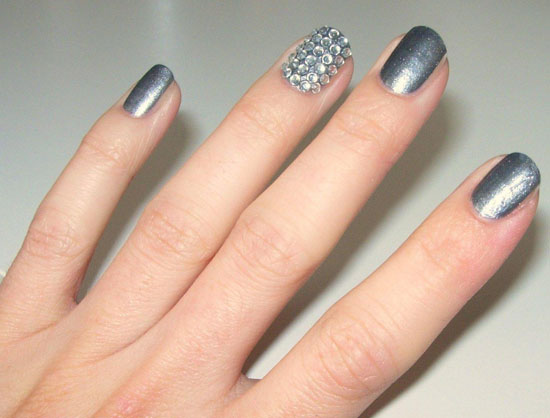 Advertised
Rather than use a true silver silver, I opted instead for the gunmetal grey silver of Dior Silver Pearl from the SS10 line-up. It looks more silver in the bottle than on the nail and while I'm not usually a fan of metallics this is a nice colour in its own right: a battleship mid-grey with micro-shimmer. It applies like a dream - two coats were more than enough to be totally opaque - and I had no problems with brush strokes.
I think the gunmetal grey toughens up the look a bit, making the adorned accent nail look nearly studded, and keeps things a bit more Barbarella than Barbie.
That's just me, of course - what do you ladies make of it?
Katy Perry pic via Twitpic.