 Gypsophila aka Baby's Breath is such a lovely understated flower that can make a pretty statement worn by a bride. Here's how you can wear it in your bridal hair.
Gypsophila is a popular choice of flower to accessorise your wedding hair with. The tiny white flower can be beautiful used for a simple bouquet and along the pew ends for your ceremony. Generally, it's a budget-friendly option that works well if you're going for the boho wedding theme. Lots of brides choose to bring it into their look with a touch of the flower in their hairstyle. If you don't want to put it in your own hair you could have your bridesmaids or flower girls wear a touch of it to set the theme.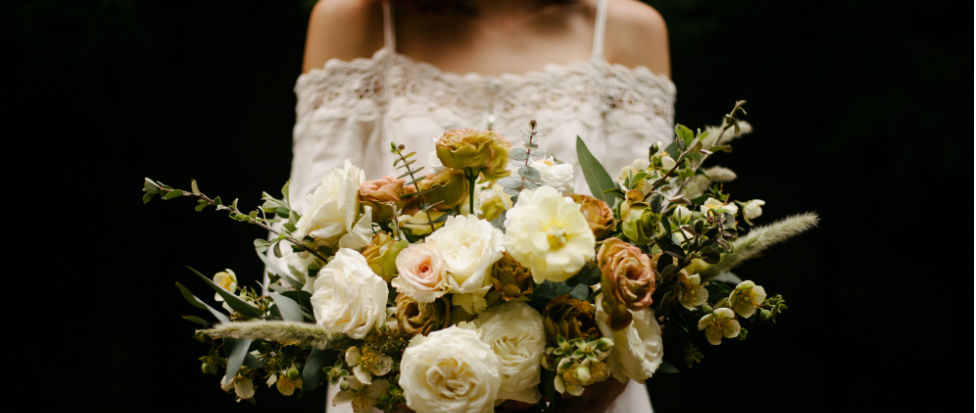 There are various ways to incorporate Gypsophila into your hair - as well as various ways to say it! You can put as much or as little into your hairstyle as you want. We have collected a few images to show you how to put it into your hairstyle no matter what way you want to wear it. It's easy to push a little sprig into your upstyle but there are ways to wear it even if you want to wear your hair down.
If you are picturing a really boho, loose updo, this hairstyle could be perfect for you. This undone plait is soft and girlie and doesn't look too tidy. You can then place as much or as little Gyp into the layers of the plait as you want. We recommend getting some input from your hair stylist. They won't see you wrong and should make sure you don't go overkill on the floral hair display.
 

View this post on Instagram

 

Here's another way to put a few tiny white flowers into your updo. It's a little more chic than the previous one if you want your hair to look more styled and less boho.
 

View this post on Instagram

 

We absolutely love this soft low bridal upstyle with a touch of Gypsophila.
Advertised

These bridesmaids have taken a classic low-bun up-do and added a touch of Gypsophila.
 

View this post on Instagram

 
If you want to wear your hair down you can still have some flowers in your hair. There are a couple of ways to do it. You can pull some pieces of hair back and pin them so the flowers have somewhere to sit. It becomes a bit more structured but that's never a bad idea on a wedding day. Don't forget your hair has to last all day so a little styling will keep it in place and keep it looking tidy.
 

View this post on Instagram

 

This is a really unusual half up/half down hairstyle with a touch of Gypsophila. We think this would be beautiful for any long-haired bride.

Another way to wear Gypsophila in your hair if you're wearing it down is to wear a flower crown. Lots of good florists make these crowns both for flower girls and brides alike. You don't have to go as big as this one but we think it's very cute for a boho wedding theme.
 

View this post on Instagram

 
Advertised
Are you considering a boho theme for you wedding?