 As Miley from Glenroe might say, thanksbetoGod. Now, Miley's nails may or may not have been what got him a-rollin' in the hay with young Fidelma, but even he would have to be impressed with this latest launch from Sally Hansen. Someone has finally given us the answer to one of our biggest pet hates on the planet, chipped nail polish!
It's all well and good if you can fit in a three week polish at the salon, but then you have to go back to get them removed. The patience one requires for glamorous paws is what constantly brings us back to our everyday polishes. Whacking them on because it takes five minutes, even though you know it will probably smudge on your way out the door. Most of us don't even want our polish to last two to three weeks as we get bored of looking at it. Three to four days would be a gift.
So, drum roll please...Sally Hansen have nailed it (cringey pun intended). This stuff is going to FLY off the shelves.
I recently headed off on my hollibops and I was cursing myself for not having booked a reapplication for my three week manicure. It was at that point where I could see that unsightly gap between my cuticles and the polish.
I popped along to the Sally Hansen Miracle Gel event and was delira when the lovely Pamela assured me that the pigment and texture of the polish was strong enough to cover any previous long wear polish.
And the colours are fabulous. Two coats of your desired colour, one coat of the top gel and voilà! Your very own long wear nails at home, all without the use of a UV lamp.
Advertised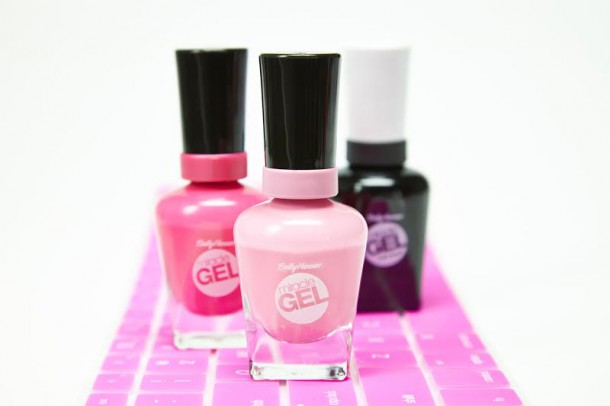 The concept is that the polish reacts to natural light and therefore hardens it. Then when you get bored, it simply comes off with normal nail varnish remover. It's genius. I know there are some high end brands who released similar polishes already but at between twenty to thirty euro a bottle, it makes it very expensive to chop and change your nail wardrobe.
I've messed around with so many of these gel nail home kits and just got caught up in a lumpy mess. This stuff is the same consistency as polish and is fool proof. It glides on. Then just as you would your normal top coat, give your colour a few seconds to dry before you seal the deal. My tip would be to always have a little wipe handy in case you go in too early with the topcoat and get colour on the brush.
And this stuff does last - the pics below show my nails seven days after application.
Sally Hansen Miracle Gel gel is under ten euro a bottle. They say it will last two weeks, but if you do a lot of housework or jobs with your hands, we are talking seven to ten days if you are lucky.
The polishes are due to hit our shelves on the 12th September and come in eighteen fab shades (but there's a great little duo pack you can try out for fifteen euros). I would recommend application during the day as it seems to work better with day light strengthening the polish. Perhaps that's why it lasted me so well on holidays, plenty of daylight. Although I had a three week manicure underneath which can help to prolong polish, I didn't have one my toes and it the Sally Hansen still hasn't budged on those little piggies.
Advertised
Would you be tempted by this latest release from Sally Hansen? Are chipped nails one of your ultimate pet hates? Would you be happy to even get a few days out of your polish?