 I'm a massive lipstick fan, and when I wrote about it here a couple of people mentioned Tom Ford lip colour as their absolute fave. I was LONGING to take the plunge into high end lippie, so imagine my outright GLEE when I got my grubby mitts on Tom Ford Lip Colour in Bruised Plum, which is hitting Brown Thomas in September (have a look at our preview of the A/ W13 collection here).
Glee really is the only word to describe my reaction, the ole adrenalin kicked in just being in the same ROOM with the stuff. And my God, it doesn't disappoint!
To begin with the packaging is just so luxurious. Gorgeous blackish red art deco-y enamel with gold accents. When you close the tube the 'click' just SOUNDS expensive. It's so damn substantial it feels like an investment, and at €45, it really is!
Its got that iconic 'TF' engraved on the top, it's just so pretty I almost didn't want to besmirch it with my bog-standard lips. That said I'm SO glad I did; I LOVE this colour. Bruised Plum is such an apt description; it's deep and warm and vampy with a very wearable winey red undertone that makes your teeth look nice and white.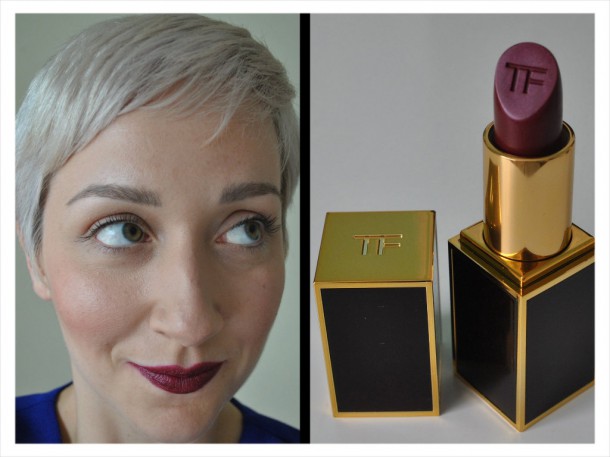 Advertised
I've experimented with the difficult plum lip before, but it always looked a bit halloween gothic, as opposed to the glamorous femme fatale look I was aiming for. Bruised Plum goes on with a satiny finish and heavy pigmentation. It's that very rare thing in lipstick; the kind of formula you almost FORGET you're wearing. And this stuff has serious staying power, its to the extent that you can still see a shadow of it the next day.
The only downside is for my bank balance; how can I go on leading a full and productive life knowing there are eleven other shades of this lipstick out there that I don't yet own?
Have you tried Tom Ford Lip Colour, and did you ever stop swooning?