 There's been an explosion of interest in all things nails in the last year or 18 months or so, with new nail blogs springing up across the Interwebs and nail polish taking the place of lipstick as the small personal luxury that women purchase as a pick-me-up in times of recession. Trying to make a freshly applied paint job last past a couple of days can be a challenge, but it looks like help could be at hand (badum tsssch) in the shape of at-home lamp-cured systems.
They're now widely available from high-street retailers like Boots, Argos, and some department stores, and DIY gel kits with products that apply like regular nail polish and soak off (*cough* think Shellac, Gelish, Gel Colour by OPI *cough*) look the absolute business for have-a-go types who want instantly dry nails and a longer-lasting result. Regardless of brand, a starter kit is where you'll probably want to, y'know, start and contain everything you need to get going, including at the bare minimum a UV or UV-LED lamp, base coat, one colour, and top coat.
Hold on to your wallets and we'll take a quick looksee at two of the consumer options...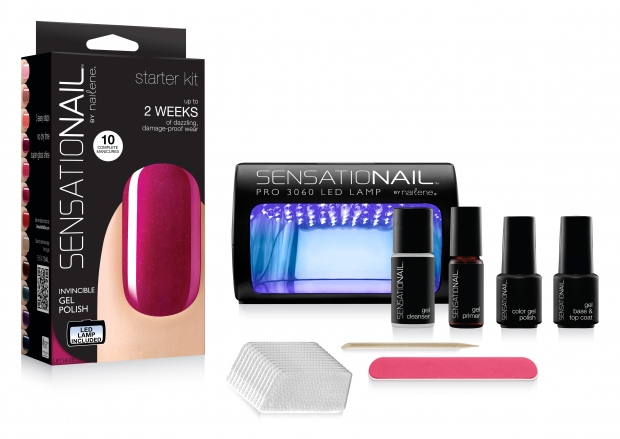 SensatioNail by Nailene (Starter Kit: €109 at Boots)
SensatioNail took the US by storm and had a waiting list of 10,000 laquerheads this side of the world before its launch earlier in the year. The 16 colours in the range are available for individual purchase, so when you get sick of the red, plum, or baby pink that came with your starter kit you can pick up another shade of your choice.
Reviews have been nearly universally glowing, and 10-days chip-free wear seems to be the norm. Some users have complained that it's an absolute pain in the hoop to remove, which I'm not surprised about: I've taken salon-applied gel-type colours off my own nails a couple of times and even with all the right gear, it takes flipping ages to do.
Something to bear in mind is that the gel colour included in the SensatioNail starter kit is not full size: it's 3.69ml, and while the company say that's enough for 10 applications it's practically trial sized compared to the colours that retail individually (7.39ml.)
Advertised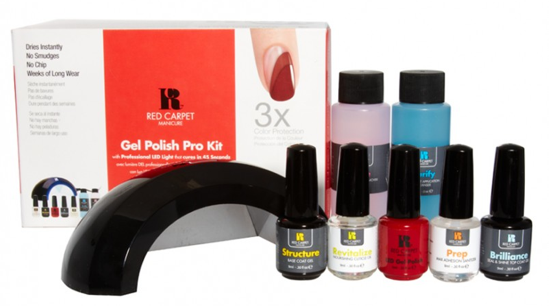 Red Carpet Manicure (Pro Kit: €135 at Debenhams)
There might be only one (red) colour option available in the kit from these peeps, but it's a whopping great 9ml full size bottle. The Red Carpet Manicure kits also contains gel polish remover (an acetone blend that's kinder to the nails than pure acetone) and cuticle oil, and since those aren't things that the average consumer would necessarily keep on hand I think their inclusion is a well-considered touch.
Additionally, Red Carpet Manicure provide a dehydrating primer as well as a true base and top coat (SensatioNail opt for a 2-in-1 base and sealer jobbie) and in terms of colour range, you're looking at 36 shades including scads of glitters.
Oh, and the kits and polishes are also available on ASOS which might be of interest if you pine for a gel kit of your very own but live out in the sticks...
There's no getting around the fact that consumer gel colour kits are a far cry from the cheapy fix of a new Essence or even Chanel polish: the initial outlay on any of these DIY gel colour kits is toe-curlingly steep. But hey - if you take the time to do your own nails a lot, like at-home beauty gizmos, and don't itch to change your nail colour after two days, they might be worth the investment.
Advertised
With any of these kits, prep is key, so have a good read of the instructions, follow them to the letter, and remember always to cap the free edge of the nails for best results.
Have you already succumbed to the lure of a consumer gel polish system or are you considering a splurge?