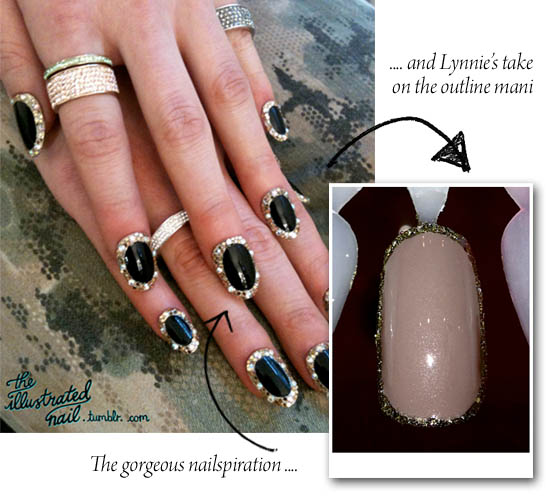 Every season, at least one new nail trend comes along to capture my attention. It's primarily the slightly off-kilter or under the radar stuff that I wind up completely infatuated with: real lace manicures as opposed to crackle topcoats, Dalmatian print rather than magnetic polish, you know the sort of thing.
It looks like SS12 isn't going to be any different. Right now, I am besotted with the border/outline manicure, where a slim contrasting ring of colour is painted right around the outside of the nail. I've spotted it popping up here and there on personal nail blogs over the last 18 months or so, but it was The Illustrated Nail's jewelled take on the look that really made me sit up and take notice.
It's the bling, I reckon. It gets me every time.
If you also like the look, you could use a nail art pen or a small brush to DIY the outline detail after the main colour's been applied, but you'll need seriously steady hands to do so.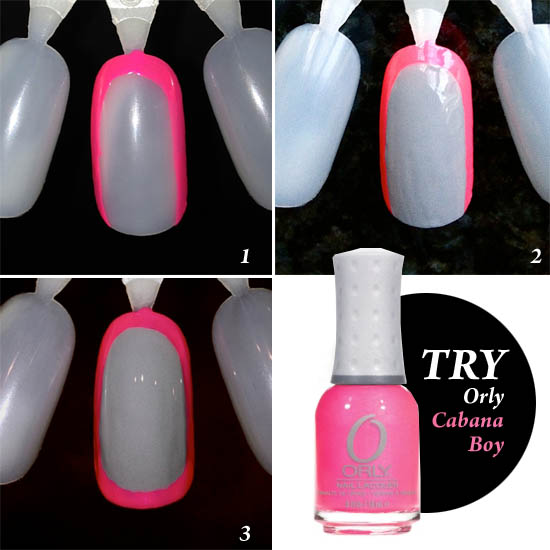 Advertised
Me, well, I'll probably be cheating by painting the outline colour first, almost as though I was painting the nails as normal but omitting the first brush stroke down the centre and painting just the base and sides...
... then filling in the centre with my main colour...
... and applying a "French tip" of the border colour to complete the outline effect.
You could also get the look quite easily by adding a full border of polka dots (see how to create them here.)
What do you reckon?