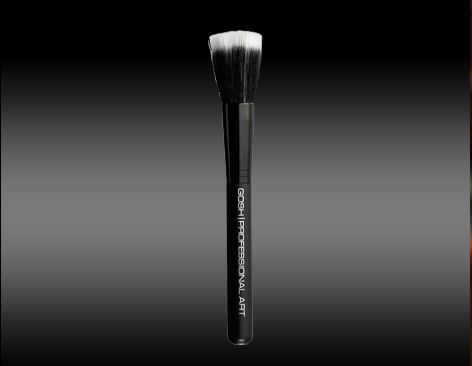 I promised you an update on my Gosh Light Weight Duo Fibre brush as a dupe for the MAC 187, and here it is, gals.
I paid £12.79 stg for mine in the UK and one of you left a comment to say you'd seen it for €16 in Superdrug in Santry's Omni Centre. So, considerably cheaper than the €45 the Mac offering costs - but in keeping with my 25% rule on product pricing, so for that we can be thankful.
Is it as good? No, not for foundation anyway. I'd indicated that I'd thought it felt a bit too flimsy for buffing in liquid base and I'd confirm that now after giving it a go. It's hard work getting a flawless finish, so I'll stick to the 187 for that.
Advertised
What it is great for is for applying whisper-light (but buildable) blusher, bronzer and highlighter, and if you're afeared of rouge then it's is an excellent brush for a novice. The fine tips pick up a little product at a time, and it's very easy to buff colour to a nice finish on the cheeks.
And now, to the shedding issue: yes, it sheds like a bastard. Lets be realistic though: brushes, like wool carpets, shed. They just do. This left a lot of little back hairs on my face, especially during liquid foundation trials,  but I'm hoping that its first wash will cull the majority of the loose hairs and cut the problem down to a minimum.