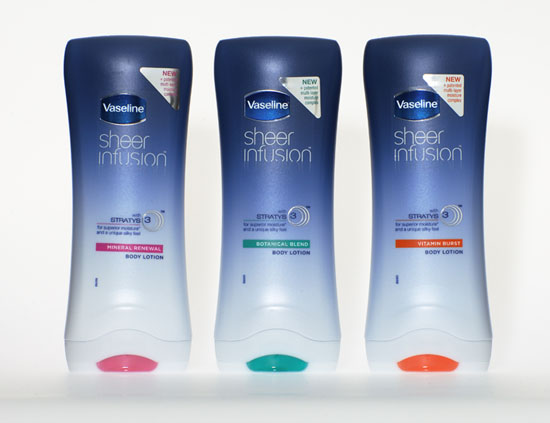 I told you about  Vaseline's new high-tech fancy pants body moisturisers, Sheer Infusion, a week or so ago. Aphrodite and I went to the launch, attended by grubby mickey and zitty back wrangler Dr Pixie McKenna. Yeah. Yeah, I did have to get that back in there, because I also promised you an update.
In addition to forgetting to use handcream, peeling off my nail varnish and only sporadically shaving my legs, neglecting to ever body moisturise unless my skin is starting to peel off in chunks, is another of my beauty vices. Oh I can't be fecked with it, ladies. Unless it's really cold and my skin is so flaky I have to put some on, I don't have the patience or the organisation to get out of bed early enough in the morning to slather it on post-shower, and at night before bed I'm so zonked it never even occurs to me.
So trialling these was something I had to force myself to do, and I gave them a good lash over Easter. I basically didn't leave the flat for three days, and spent the triumvirate swaddled in trackies with my hair in a pineapple. So, perfect body-moisturisin' time when there were no tights to wrangle on post-creaming. Anyway, all the things they say about Sheer Infusion are true - it is a very light gel cream, it does absorb easily and it does moisturise well.
Advertised
Surprisingly well, given the €5.99 price tag.
I mostly concentrated on my legs, bum and tum. A large, rippling area. This works, simple as. It sinks in really quickly and makes skin feel smooth, and it is still soft and smooth the next day. Colour me impressed - I'm used to using product the texture of putty which takes until the year 2525 to sink in, and then my skin is Saharan the next day again. I used this for three days straight and thought the few minutes it took were easily justified by the result.
Of course, I've totally fallen off the wagon post-bank holiday weekend, but it is in pride of place in the bathroom cabinet and when the fancy takes me for a little more product application, I'll be reaching for this.