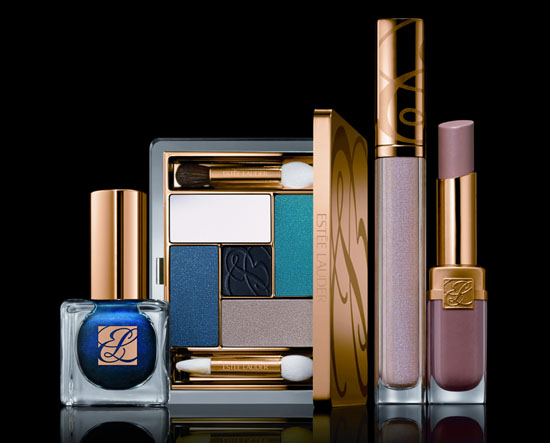 Launching with the very gorgeous-looking Blue Dahlia collection which'll hit counters towards the end of the summer is a totally new look for some of Estee Lauder's cosmetics. Out goes the plastic packaging we're used to seeing on the shadows and in comes sleek, chic and very glam gold palettes and new accents and embossing.
It's all thanks to the brand's artistic director, Tom Pecheux. We had an inkling of the things to come for Lauder thanks to his foray into fashion week back in February but he's done more than just change the cases: look at the shades in that palette! This really represents a huge step forward for a brand that's been steadily getting more and more exciting and which is shedding its fuddy-duddy image of old. Sharp shadow shades are married to that very hip navy polish and pale-but-interesting lip colours all add up to a really modern result.
Want to see the model shot for the look? It's after the cut, and this is one collection for Autumn I am really excited about. We'll be bringing you the run-down on products, dates and prices shortly, but in the meantime, feast your eyes on this eye candy, eh?
Advertised