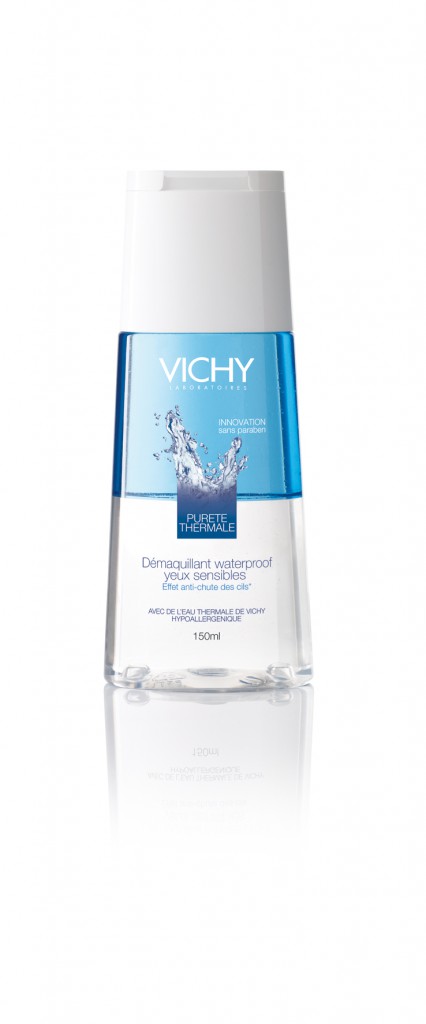 We love eye makeup - and sometimes we love the thickest, blackest, most sparkly eye make up there is.  With lashings of mascara of course.
But come the end of the night it takes something heavy duty to take it all off easily.  Rubbing and scrubbing is not something you want to be doing with your peeper area: the ideal is a makeup remover that will lift the lot easily and with no effort.
Unless you're using an oil cleanser, ordinary cleansers aren't great for removing eye makeup  as a rule.  The absolute cult eye makeup remover is of course Lancome's BiFacil - that mix of liquids when shaken up lifts absolutely everything with just a swipe or two of the cotton pad.
So what's come along to supplement the choice?  Well Bourjois have a decent dual phase eye makeup remover in their skincare line; and now Vichy have gotten in on the act and developed a new dual phase remover: Purete Thermale Waterproof Eye Make-Up Remover (€13.50) which works really well.
Just like BiFacil it's a pleasing mix that when shaken produces a light liquid that takes off eye makeup quickly and efficiently. Ingredients in the mix work to minimise lash loss and are kind to sensitive eyes.  I think it might even cope with GaGa's anime eyes
Advertised
Super stuff from Vichy and a bottle of this is going to last yonks - so it's worth the purchase and will become a staple in your bathroom cabinet.
What eye makeup remover are you using?  Or do you use your regular cleanser to take the lot off?
Also read: