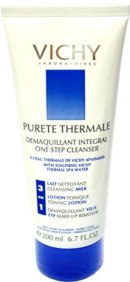 We all know the importance of thoroughly cleansing to remove make-up and grime and impurities before we hit the leaba. But it just seems like such a pain in the arse of an exercise sometimes - eye make-up remover, cleanser, toner... yaaawn. Sure, you could use a cleansing wipe, but I believe that they're the work of Satan himself and won't even keep a pack in the house.
As a distinctly less devilish alternative, might I suggest Vichy's Purete Thermale One Step Cleanser? It's a 3-in-1 wipe-off cleansing milk infused with Vichy thermal spa water which removes all eye and face make-up and tones the skin in one go. Hypoallergenic and pH balanced, it can be used without irritation even on sensitive skin and eyes and is suitable for all skin types.
Advertised
See, there are easy peasy ways to cleanse without having to sell your soul!