 Inspired by the recent launch of The Huntsman: Winter's War, I thought there would be no better look to show you how to re-create than the Charlize Theron.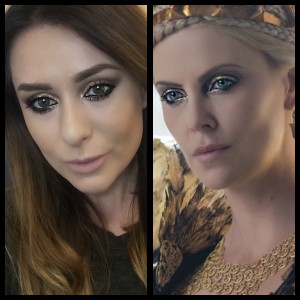 The film launches today, and for those of you who have been living under a rock, the film tells the story that came before Snow White. Chris Hemsworth and Charlize Theron return to their roles from Snow White and the Huntsman, joined by Emily Blunt and Jessica Chastain.
Theron stars as evil Queen Ravenna, who betrays her sister Freya (Blunt). Retreating to a kingdom far to the north, Freya raises an army of Huntsmen as her protectors, with the only rule that no two of them should ever fall in love.
As a war for domination escalates between the two queens, the hero standing between them is Freya's most elite Huntsman, Eric (Hemsworth).  Alongside fellow warrior Sara (Chastain), Eric must help Freya vanquish her sister, or Ravenna's wickedness will rule for eternity.
Advertised
To celebrate the release of this epic action-adventure, we have created a tutorial to show you how to achieve Queen Ravenna's beautiful make-up look.
I apologize for my swollen eyes as I was dying of a cold! You'll be happy to hear I'm feeling slightly better now, apart from a cough that seems to want to stay with me forever. However, I loved re-creating this amazing look; hope you enjoy it as much as I did.