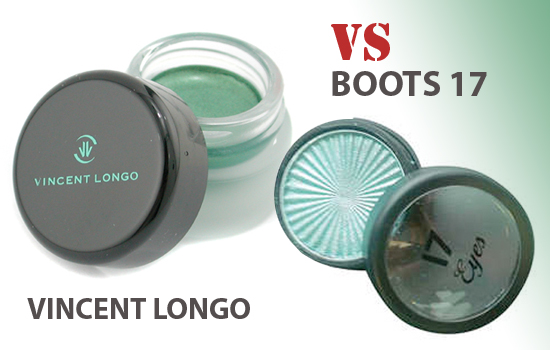 (apols for the pic - neither adequately shows how fab each is!)
I picked up a Vincent Longo Eye Shimmer Souffle in Oasis - an intense sparkly, shimmery green -  in the states a while ago and despite it being one of those very few truly transformative (and quite frankly amazing) products I own, I've never blogged about it because to my huge regret, you can't buy the brand's products here.
Then last week I wrote about some new 17 cheapy goodies and asked for opinions on the quality of the products. To my surprise, they were almost universally positive, with lots of you raving about the quality of the shadows. So on a recent trip to Dundrum, I took a wander into Boots (why is Dundrum Boots so lame, I wonder? Surely now, surely it should be topping Liffey Valley, but it's nowhere near as good. A mystery)  and headed to the 17 stand. Since I last paid the brand a whit of notice, products and packaging have improved out of bounds.
Advertised
I swabbed a few shades on the back of my hand and reckoned the pigmentation and texture wasn't too shabby at all. Then I clocked Green Glimmer, an intense, sparkly, shimmery green. Oh, we've been there before, haven't we? But by God, there isn't much in it - sure, the Vincent Longo product is altogether posher - not to mention costlier at $24 - and the formulation is different. It's got a rich creamy texture which blends like a dream and can be applied as eyeliner too, having a consistency like that of a cream liner. On the lids, it lasts  and lasts too.
The 17 product is a soft powder shadow with great colour payoff and while I can't estimate its longevity as I didn't buy it (I should have, but at the time reckoned there was no point in buying a dupe for something I have already), in colour and finish terms, it's a bloody winner.
So, the result? 17 wins by default: it's available here, the Vincent Longo product is not. But it's not a hollow victory - this is an impressive eye shadow with good pigmentation in a really beautiful shade.  Oh, and price?  it's a mere €4.89 as well, making 17's Green Glimmer an affordable product that performs.