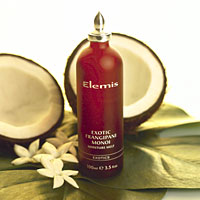 Unfortunately named to our Irish eyes as this site might be, Time to Spa is just fantastic. And why is it fantastic? Because it's the place to buy all your gorgeous Elemis (as well as loads more ace brands) goodies, that's why!
Fancy a bit of the seriously, SERIOUSLY gorgeous Elemis Frangipani Monoi Moisture Melt? Yes, yes you do. Oh ladies, this stuff is the scent of the Gods. It "leaves the skin unbelievably satin-smooth whilst shielding the skin against external aggressors". You can use it on skin and hair, and it will leave both silky smooth, beautifully scented and perfectly moisturised.
Advertised
There are also gorgeous skincare goodies from Elemis and La Therapie, hair treats, makeup and products for men. So get yourselves over to Time to Spa with the quickness for a good old snoop.