 I wouldn't be the biggest lover of false tans I must admit. Partly because there's always an issue. There's always something or some area that goes horribly wrong. When I apply false tan, this is what usually happens: my chest turns whiter than it originally was (slight exaggeration), my legs go a lovely shade of mahogo but my feet, ankles and heels always look a bit dodge.
Then we have the wrists/hands/fingers ordeal that goes on. I wash my hands 30 minutes after applying tan but I'm still left with white rings between my fingers and a line so evident on my wrist, it looks like 2 different body parts stuck together. I LOVE spray tans and for all those little reasons outlined above, I usually would just get sprayed before a big event or night on the tiles.
But - I was hearing absolutely amazing things about the Vita Liberata pHenomenal 2-3 Week Tan Mousse that Kim Kardashian wears and I thought it was time to face my tan demons yet again. This mousse has a super fast dry-time and and is incredibly easy to use, perfect for the novice tanners out there. It boasts Odour Remove Technology which gives it zero self-tan smell, a built in Moisture Locking System for 72 hour skin hydration and amazing extracts like cucumber which keeps the body hydrated and helps eliminate toxins; witch hazel which is renowned for its antioxidant and healing properties; and papaya which improves the tone and texture of the skin.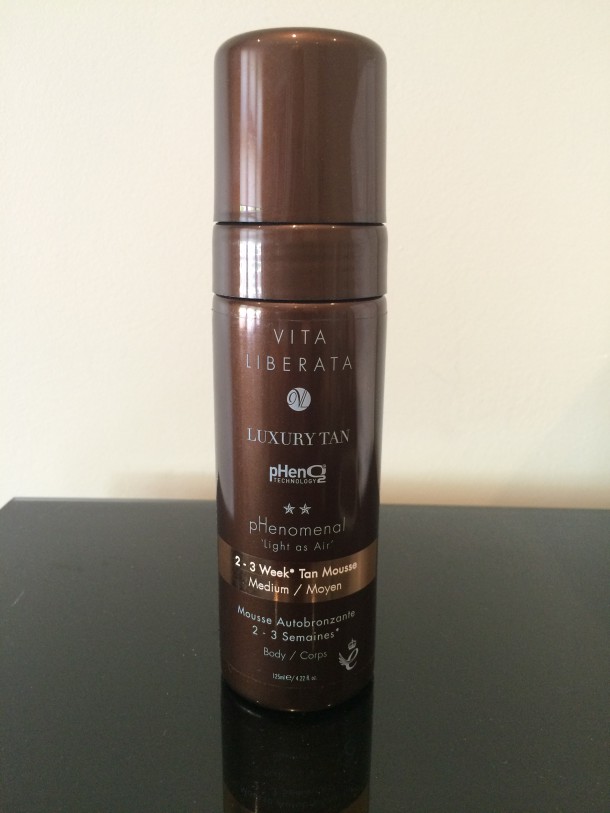 The pHenO2 Technology guarantees the longest lasting tan result with an instant colour that develops over 4 - 8 hours and lasts up to 2 - 3 weeks. To really experience the full benefits of this 2 - 3 week tan it is advised to apply the tan three times over a 12 - 24 hour period.
Before use, exfoliate the skin but don't apply any moisturiser prior to tanning. Use a tanning mitt and apply to the skin in circular motions. Allow at least 4-8 hours of dry-time before showering. As I was saying, repeat this process 2 more times to experience the full benefits of a long-lasting, 2 - 3 week tan result.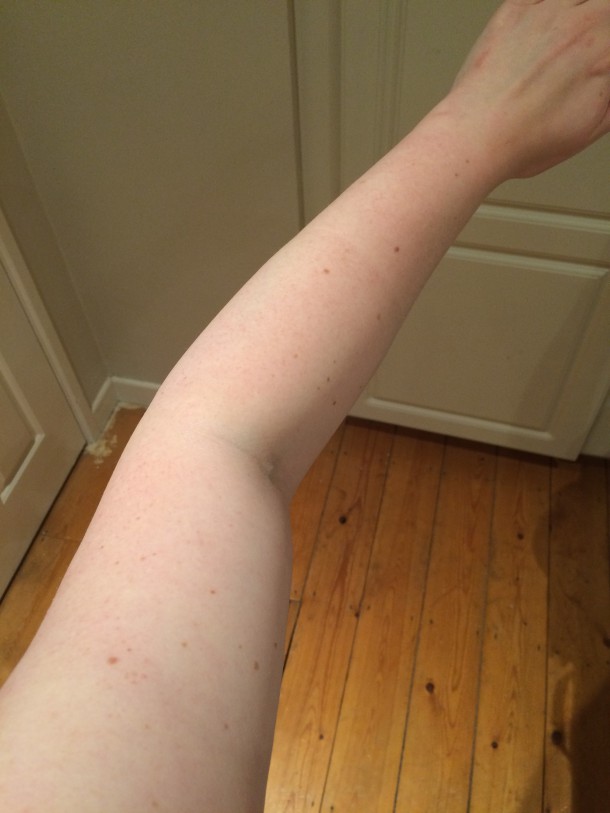 (Before Application)
In my case I only applied one layer of the tan. I'd say my first application would have been at about 12 am and I showered it off at about 8 am later that morning. I was instantly thrilled to notice that I didn't have any weird looking hands, shoulders, knees and toes, knees and toes and the colour pay off was immense...I was chocolate!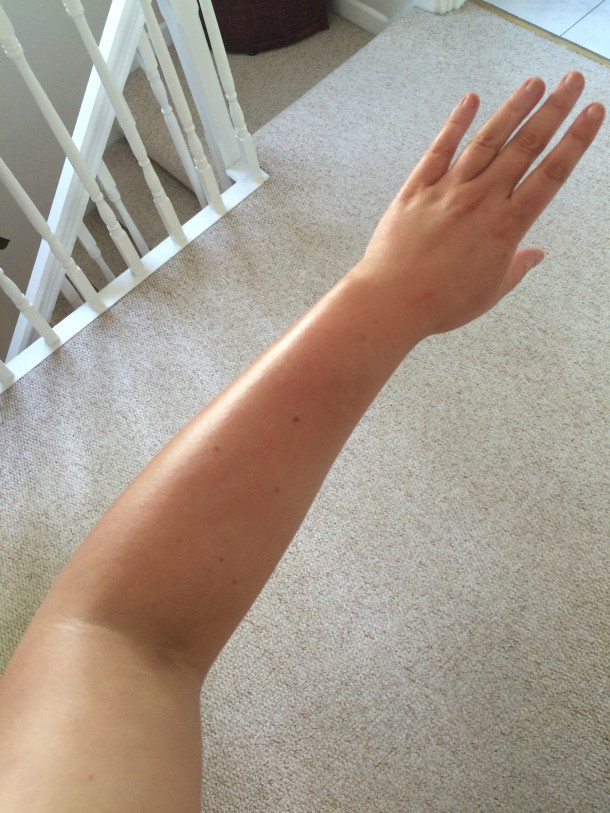 (Morning after first application)
Advertised
I kinda had the same issue with my chest though. I'm always a little paler when I apply tan there for some reason and I know a lot of girls who experience the same thing.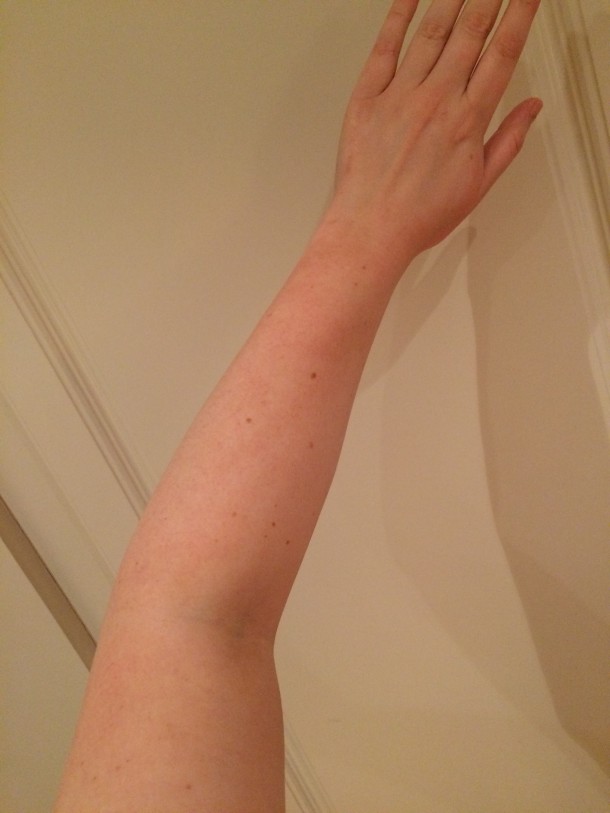 (1 week in, 5 scrubs later)
Every time I shower, I use exfoliaters and exfoliating gloves. So in a week period I must have scrubbed the tan at least 5 times and I still had a beautiful, even colour. It faded perfectly with no patching and as I had another event to attend the following week what I did was I applied another layer which brought me back up to African Queen status.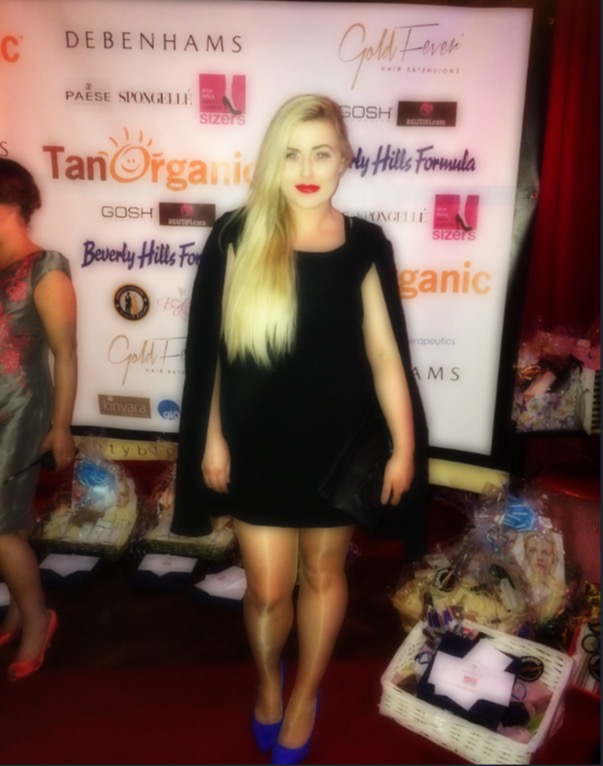 (Event 1)
I was so surprised at how even the tan was all over my body. And my skin is usually so dry that I would have these little dry patches in random annoying places where the tan would gather and go deeper. This tan is so hydrating I experienced no dryness what so ever and it's probably why I experienced no lines or marks in the usual suspect places either. Tan usually gathers in these places due to skin dehydration so with the hydrating qualities in this tan, those issues will no longer be a problem.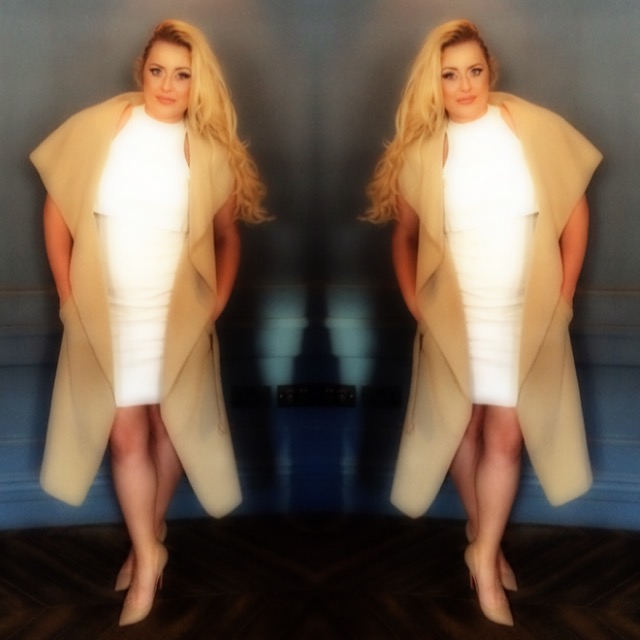 (Event 2, 1 week later)
Because I didn't apply the tan three times in a 24 hour period, I didn't get the full three weeks out of it but I was still more than pleased with the approach I took to it. I've had a seamless tan for the past 2 and a half weeks and I've only applied the tan twice!
Advertised
I really couldn't recommend this product enough! It's definitely my new favourite tan!
Have you tried Vita Liberata? How did you find the results? Do you have any more self tan recommendations to add to the mix?