 If you are struggling to choose a perfect colour blush for your wedding day I might just have the one for you
This little diamond is my all time, never-lets-me-down, favourite bridal blush. It's by MAC and it's a sheer tone shimmer blush. I swear if they ever discontinue this shade I am giving up makeup!
There are guidelines to choosing blusher to suit your skintone. Firstly, you can go by your colouring. If you are what we describe as spring colours - blond hair, fair skin, blue eyes - a light pink might suit you. You could have olive skin with dark hair and dark eyes and you suit a more bronzey, amber tone.
Secondly, you can go with your preferences; some of us prefer a peach tone while others like pink.
However, this particular blush just suits everybody. I have yet to find a person I can't use this shade on. The blush is Sunbasque by MAC. It is a peach tone with a pearl finish. You can actually use this blush alone without any bronzer or contour powders and it will contour your cheekbones. The peach colour is deep enough to give you some shading just below your cheekbones while the pearl finish on it will catch the light along the tip of your cheekbones.
Advertised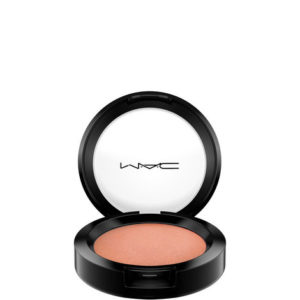 Wait! There's more! This blush doubles up as a gorgeous eyeshadow. Whenever I use it on the cheeks, to complement it, I add a little to the eyes as well. It works really well as a transition colour, a colour to blend out your eyeshadow at the edges using a large fluffy eyeshadow brush or even your blusher brush.
Are there any wedding day makeup decisions you are struggling with?