 I never really noticed my teeth moving until I started filming for Beaut.ie. I was slowly developing a gap in my front teeth which was progressively getting worse over time.
I never thought about getting braces until that point of my life. I don't consider my teeth to be 'bad' teeth, but over time they were slightly shifting. With my upcoming wedding and the thought of all those photos, I felt the time had come to address the situation before it got worse.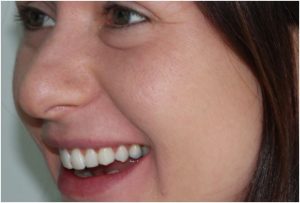 The thought of being in my 30s and having full blown train tracks was a little too much for me to get my head around. So, after doing a good bit of research - you can't just jump into something like this - I booked an appointment with Clearbraces.ie for Dental Options in Clane* to find out about Invisalign.
What is Invisalign?
Invisalign is at the forefront of cosmetic dentistry technology. Unlike the more traditional braces or retainers, Invisalign is a virtually invisible method of straightening your teeth. You will be fitted with removable, see-through aligners that have been specifically crafted to fit your teeth.
The aligners will gradually cause your teeth to shift their position slightly over a period of two weeks. Every two weeks, you will change the aligners for a new set that will cause your teeth to move a little more. As the treatment progresses over the following weeks and months, your teeth will straighten into their proper positions, as prescribed by your dental practitioner. You can change some of the aligners at home which reduces the visits to the dentist and gives more flexibility with appointments (which suits my busy lifestyle perfectly).
My consultation
I had heard only great things about Dental Options in Clane, so I made the trip out there to see if they could fix the growing gap and twists in my teeth.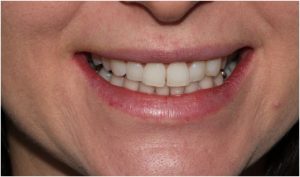 Advertised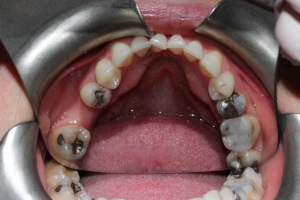 The clinic is so welcoming and professional, even walking in you just know that you will be in good hands. Every prospective patient gets a thorough complimentary consultation, firstly discussing all treatment options with the treatment coordinator and then in to see the orthodontist. Clearbraces.ie have a set price for Invisalign so there are no hidden extras and they have three tailored payment plans where you can even pay monthly, interest-free.
I was examined by orthodontist Eibhlin O'Leary who took photos and x-rays of my teeth to make sure I was an ideal candidate, and I was! I was shown the images on a big screen so I could see exactly what was going to be improved. (Every approved candidate gets a virtual 3D plan like this, showing how your teeth will move throughout the course of your treatment, and showing what the finished result should look like, which I found very reassuring.)
Using their specialised computer "ClinCheck" technology, I could see what my teeth would look like when they were finished, and the dentist talked me through the process that would be involved. The level of technology was so amazing.
All in all, it seemed so achievable and pretty painless. Gone are the days of having metal protruding from your mouth and food stuck in your teeth after every meal.
I was certainly sold. In only 12 stages my teeth would be wedding ready.  (The average treatment time takes 12 - 18 months but can depend on the severity of each case.)
The next step after the consultation was for a scan to make sure there was nothing fundamentally wrong with my teeth. This is done with all successful candidates for Invisalign patients. This digital impression which unlike the old fashioned method where you bite into alginate in a tray, a computer digitally scans your teeth. Gone are the days of spitting out putty for the rest of the day; this is a high tech scan which is then sent to The States where they make up your aligners.
Over the next 12 weeks, I will be documenting my journey with Clearbraces.ie so don't forget to check back in on my progress.
Advertised
*I went to the surgery in Clane, Co. Kildare, but there are eight providers in Ireland, in Blackrock, Swords and Grafton Street in Dublin and in Limerick, Galway, Cork, Kilkenny and Wicklow. 
If you are thinking about Invisalign, you are in luck as all Beaut.ie readers will receive €250 off Invisalign with Clearbraces.ie when they quote 'AislingPowellConsultation2017' to the Front Desk team.