 Now, we don't want to blow our own trumpet. Well, not really. But we've really done it this time. I mean, we've REALLY done it. 
Orange is the lip colour of the season, and Mac Morange is the orange of the century. You can't beat it for beauty and general majestic orangeness, but I kid you not when I say that I accidentally found a dupe for it. As perfect a dupe as I've ever found. 
Isadora have extended their Twist-Up Matte Lips range from the original three nude shades to include three so-bright-they-hurt summer shades!The range now includes a bright red, a super pink and a glorious orange. I was drawn to the orange immediately. It may be the lip colour of the summer, but I've always had a soft spot for an orange lip. Despite the fact that it can be intimidating to wear for the first time, there is a shade that looks good on everyone, and it screams confidence.
Any makeup aficionado will have heard of Morange. It is a classic lip colour from MAC, and the iconic orange lipstick choice of most makeup buffs. There have been loads of oranges that try to meet Morange's standard of perfect orangeness, but I've never found anything that matches it for shade, pigment, and comfort.
Advertised
Well, here it is. 
While Morange has a slightly dewy satin finish, Orange Pop is a modern matte, which essentially just means that it's a true matte without feeling horribly uncomfortable to wear. If you want to give Orange Pop the satin finish of Morange, just liberally apply balm to your lips before applying it. If you want to matte Morange down to replicate the finish of Orange Pop, either blot gently with a tissue, or apply a super thin layer of translucent face powder over the top.
It's rare to find a dupe this perfect. When I went to take a comparison photo (below), I couldn't tell which lipstick was which, so I had to reapply the lipsticks, make a note, and take the photos again!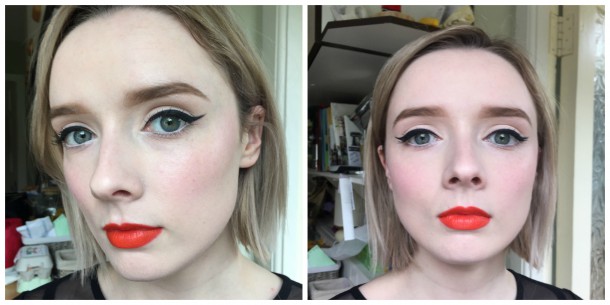 What do you think? I've used Morange in the limited summer packaging here, but it's available at €19.50 year-round in the permanent Mac collection and the shade is exactly the same. Isadora Twist-Up Mattes will set you back €13.25. That's a saving of €6.25 for an almost perfect Mac dupe. The Isadora lipstick is on the pricier side of affordable, but the quality is worth more. Approximately €6.25 more!
Advertised
Leave your thoughts for us in the comments!