 Next up in my Dainty Doll review marathon is a skincare product. (You can read my rave review on the liquid foundation here). Nicola Roberts is said to be branching out her make up range with some skincare products and this Wonderbalm in the Working Girl shade is the first treat we're given.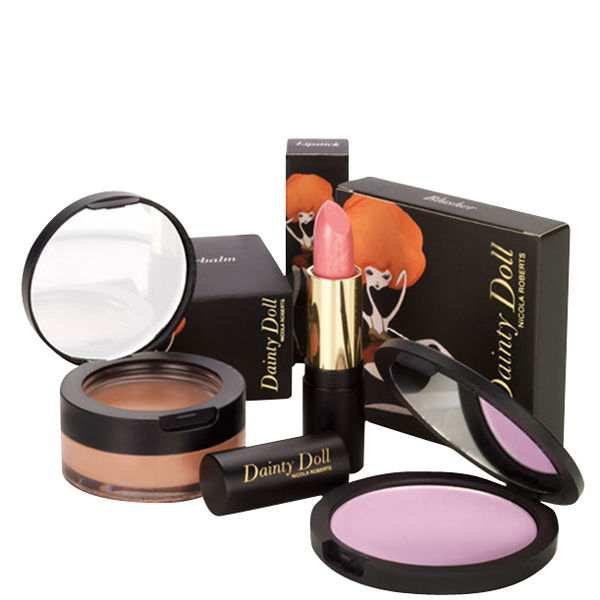 I'm not normally one for any kind of balms (I'm always afraid they'll be gimmicky), but I liked the look of this because it can be used on multiple parts of the face (eyes, cheeks, lips) and body (elbows, knees or any part of your body that you want to draw attention to).  After a couple of goes, it won me over.
Use During The Day
The product, which smells and looks (and tastes!) gorgeous, is super kind to the skin – it contains mango seed oil to smooth and soften as well as natural plant extracts and beeswax to soothe the skin - and can be used anywhere that you think needs a pick me up.  I use it during the day on my lips to keep them in great condition and funnily enough, my eyebrows to keep them in place! I also used it on my hands and anywhere else that was a little dry and it did wonders; it really put some moisture back into the skin. I wouldn't use it as a direct substitute for your own moisturiser if your skin is really dry, but it works really well on small patches - a bit like Elizabeth Arden 8 Hour or Trilogy Everything Balm.
Advertised
...Or Night
But the balm really comes into its own when used for those glamorous nights out on the town.
When preparing for a night out recently I used the balm on my eyelids, which gave my eye shadow a gorgeous sheen without taking it off.  I patted it on my cheeks over my blush, which made me look flushed and dewy, without making my cheeks look oily as so many cream blushers do.  I received many compliments that night, so it obviously does something right!   I also rubbed a little on my shoulder blades and back when I wore a strapless top, which made my skin catch the light and look great to boot. It's also perfect if you have to dash of for a get together straight after work as it will instantly glamourise your day look.
My Wonderwall
I paid £20.50 for it, which is pricy , so it won't float everyone's boat, but because it has multiple functions and and is the perfect size for your handbag I think its well worth it.  Another winning point is that you can achieve your desired look using just a teeny amount, so you can make the pot last a while.
I'm looking forward to more skincare in the Dainty Doll range in the future.
Are you a balm fan? Have you tried this or would you be willing to give it a whirl? Let us know your thoughts in the comments below!
Advertised