 Going by the name alone, you'd easily be forgiven for thinking that the YOSO compact is a make-up product. When I first came across it and my initial thoughts were, is it an eye palette or pressed powder? Obviously there's a slight spoiler alert here given the pictures so you can see it isn't a make-up product (the name, comes from the fact that it is compact in size.) So, if it's not make-up then what is it? Is it a make-up remover? Nope, this, my friends, is a deep cleansing system for skin that uses Ion Technology. Fancy eh?
Usually anything like this makes me a little suspicious but I'd read a few review good reviews online and was intrigued. Whenever something is all a bit too techy I tend to shy away but I decided to give this a go because my skin has been misbehaving so needed a bit of a kick up the arse. I'm not going to pretend I knew exactly what Ion Cleansing was straight off the bat but having read up about it the simplest explanation I found was that it involves using an electrical current to draw impurities out of the skin that are naturally negatively charged by using a positively charged current. Grand.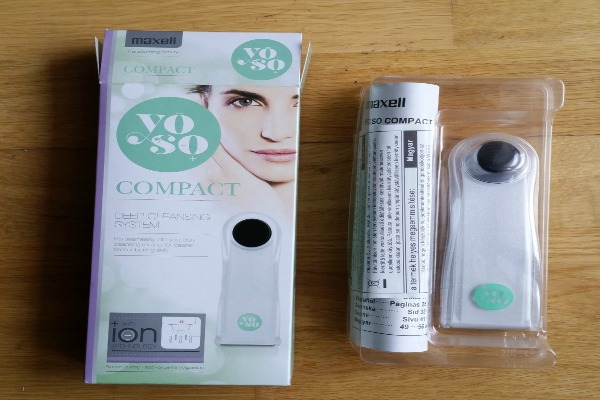 Fast forward and I had both my YOSO compact and a basic knowledge of what it does/how it does it. The next thing was to get to grips with the thing and try it out. The box was a little heavier than expected but when I opened it up I realised that the bulk of the weight came from the manual. Seriously? This thing looked huge… and I never read manuals. Sigh. I thought I better had read this one though, because I was already a little confused. Thankfully the instructions are simple and very easy to follow. There are only about 8 small pages to go through as the rest of the manual covers the same info in other languages.
The most important things to note before you use this are that it is not a make-up removal system so all make-up should be removed before you try this out. Secondly it requires 2 AAA batteries that do not come with the packaging. Thirdly, do not use it in the shower. Now – on with the show! Here's my abbreviated take on how to use it:
Advertised
Open up the box, remove the YOSO Compact and insert the batteries in the back panel.
Flip open the front bracket and remove the protective plastic cover that is over the head (black part).
Place a clean cotton pad over the head and then secure in place with the front bracket. Saturate the cotton pad with a water based toner or micellar cleanser (I chose to use my Bioderma one).
Turn on the Yoso Compact by pressing the main button on the back panel. Choose your intensity, (1 is recommended for sensitive skin). In order for the current to work properly you need to make sure your fingers/hand is touching the side bar as well. Then move it along your skin to deep cleanse.
The device beeps when in use but you can mute it if it gets annoying. It automatically shuts down after 3 minutes of use (the recommended time for each session) to avoid any skin irritation, which is handy.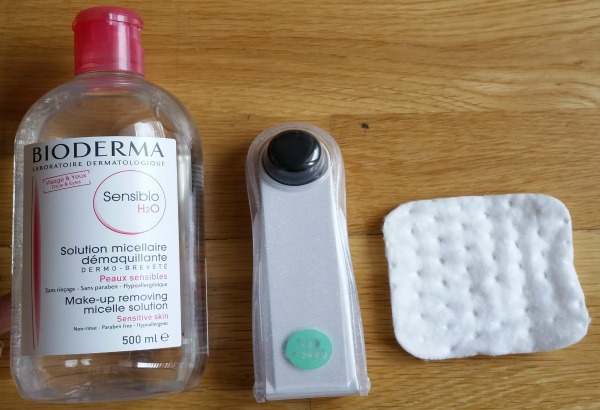 Does that all sound complicated? I thought so at first but once you get it going it's actually really straightforward (there's also a video tutorial online if that makes things easier!). In the manual it mentions that sensitive skin might feel a tingly sensation, I haven't found that happening to me, but thought it'd be worth mentioning.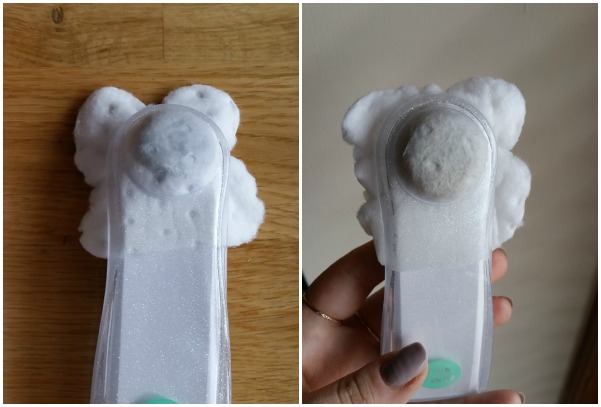 I was skeptical I have to admit but after using it and seeing the added dirt that came out of my "apparently" cleansed, make-up free face I started to believe what I'd been reading. I'm not sure how much the picture I took does it justice though but the results, in my opinion speak for themselves. I've been using the YOSO compact for about a week now and I'm already seeing a difference, my skin is softer and small patches of congestion that I've been trying to get rid off for ages using masks/oil cleansers etc to no avail are starting to dissipate, as are some stubborn little blackheads.  All in all, I think I'm an Ion Cleansing convert!
Advertised
The YOSO Compact is available online for €84.82 from Beautycrowd.com. Have you tried it or anything like it?