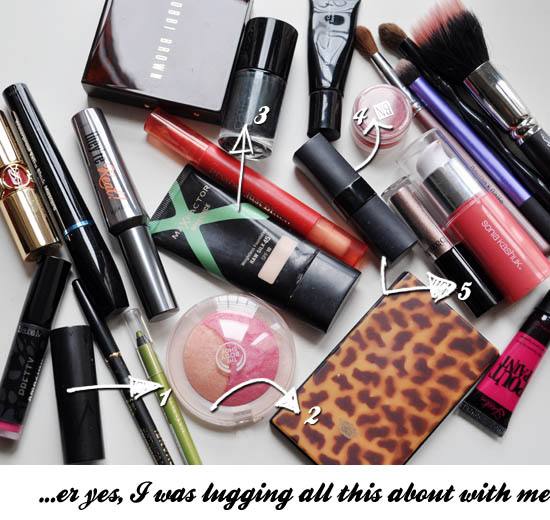 Recently my handbag has been, how shall I say? Weighing a frigging ton.
A little de-cluttering was in order and one trillion receipts, used tissues and random bits of paper later, I had also fished out two makeup bags, nine USB keys, three notepads of vital importance, six pens, a lens cap I'd been looking for for weeks, three tampons sans wrappers (unused, I hasten to add) and four press releases in varying stages of tatterdness.
I hadn't realised I'd been carrying around so much stuff - no wonder my back's bad - so thought I'd snap it for yiz. And while we've taken a good look at a lot of it already on the blog, like Bobbi Brown's lovely Tortoiseshell Palette from a few months ago, the fab Sleek Pout Paints, not to mention that Benefit They're Real Mascara, Max Factor Xperience Foundation, Revlon Just Bitten lipstain and YSL Rouge Volupte lipstick, there are a few bits in there I haven't blogged about. So I thought I'd tell you a little bit more about them briefly.
Advertised
This is one of the new Max Factor Liquid Effect Pencils which launched recently. If you're familiar with Gosh's pencils then they're very similar - a sort of satin finish which is easy to apply and which sets and lasts well. It's easy to draw flicks with these and they're a pretty nice buy - but ultimately they can't compete with Gosh in terms of shade choices as there are only about six on offer. I have liked this particular chartreuse shade drawn close to the lashline and have used it quite a bit recently - it's brightening and suits my brown-green peepers
Love this Sisley powder compact from a couple of years ago. It's a terrifying price - about €69, I think - but just look at the packaging! Plus, I have to admit, the powder is pretty great. It's silky smooth, doesn't add weight or colour and there's a generous mirror in the lid. This is one of those pieces of beauty kit everyone admires and is a great handbag addition
Catrice's After Eight polish is THE best dupe for Chanel's Black Pearl I have yet to come across. Hands down. And for €2.79 sure you'd be getting two. Another pat on the back for this brilliant budget brand
This is a Ben Nye Lip Colour Pot which I bought from Love-makeup.co.uk to check out the brand, which is a pro line that would be used a lot on stage and for body painting. This shade is True Red and is pretty much a deeply pigmented lip colour you can pat on and build up from a stain to a proper matte, full-on pout.  I really like this, it's very versatile, and it was only £3.35 too
I really like these Bare Minerals High Shine Eye Colours - they are super-sparkly and super-pigmented - and this copper shade, Meteorite, is spot-on for achieving Sara's purple and copper night time eye look too. Really easy to use as well, thanks to the sponge applicator. €17 is the damage here.
Right - that's what I was carrying about - but what about you?
What's in your handbag - RIGHT NOW?