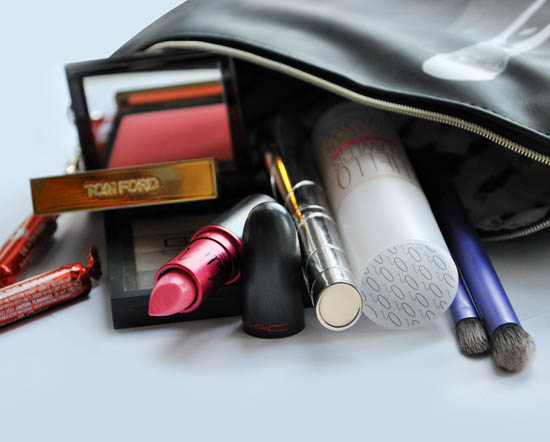 Oh I do love a nosy into someone elses' bag of beauty bits and who doesn't love divulging the contents of theirs? ME!
Tom Ford's Cheek Colour in Flush was something I re-discovered again recently and fell back in lust with. It's just lovely. It's about 90% matte with very very subtle shimmer so not one if you like blinging cheekbones. It's also the most pigmented powder I've ever had - you need to go so lightly with this it's not funny
That Gosh Smokey Eye Quad we've mentioned a couple of times is getting a lot of play in my bag recently: it's not perfect, being pretty powdery and The Pigment Police will seek a warrant because it's only about medium but that makes it very daytime appropriate. The shade choice is good too, offering a proper mix of lid, crease and liner shades
Nicki Minaj's Viva Glam lippy for Mac is out at the beginning of March, and is like the hybrid love child of St Germain and a Day-glo marker. It's bright. Scratch that, it's flouro. It might ... it might even be too much lipstick for this girl to handle (we'll be taking a look at it in situ on my kisser tomorrow - check back!)
Stacked up beside it is the new L'Oreal Paris False Lash Telescopic mascara we're all meant to be so pleased about because it's being advertised sans lash enhancements. Woo! This is actually nice - I almost always have a couple of mascaras on the go for testing purposes and this does give length without too much volume, which I know some of you don't like, so it's more natural result - give it a look if that's what you like
Then we've got Benefit's newest, Oxygen Wow foundation, which is very much holding true to their brand mantra of light coverage with barely-there results. This means I like it, but heavy coverage fans won't. It's too early for a full review, but I'll bring you one soon. First impressions are good though
Did you know the Samantha Chapman Real Techniques brushes (she of Pixiwoo fame) are now stocked at Boots? These are the only two from the starter set for eyes I bought last year that I'm still using. I wasn't gone on the kit as it was sold - it's a badly thought-out set - but the brushes themselves are good tools, just not for their intended purposes. They're definitely worth picking up individually, though I'm not convinced the sets offer truly good value. And apologies, I have absolutely no information on euro pricing for the brushes in Boots here, but I believe Cloud10 beauty might offer a better price
So what are those sweetie things? They, people, are cute little perfume samples of Roger and Gallet's Eau de Bienfaits, a fragrance of which I currently can't get enough, but which is too big to carry around. I nabbed a handful of these at the launch, and am toting them about with me until they run out. After that, I'm fecked.
And the bag itself? Behold:
Advertised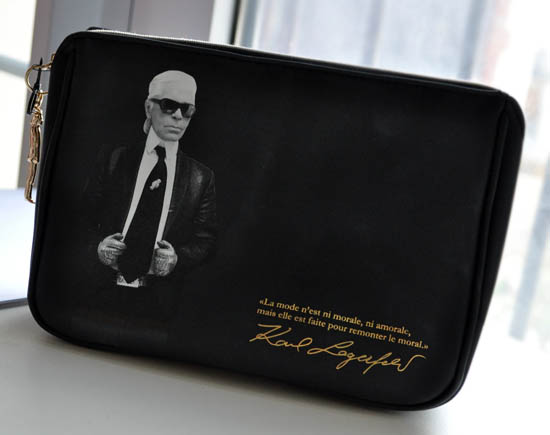 It's from the Karl Lagerfeld collection he did for Sephora before Christmas. I was in Paris on a press trip in December and bagged myself one for about €25. It's a decent size and well made, I am liking its ways.  Even if Karl can be an obnoxious twerp on occasion.
So - that's me. And now, you! To the comments, please: What's in Your Makeup Bag RIGHT NOW?