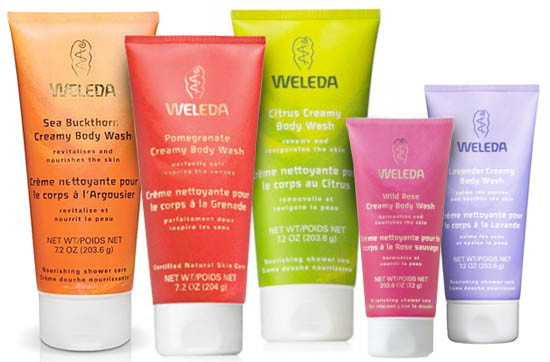 I was talking about Elave baby body wash last week and as with many products aimed at dry, sensitive skin, it is fragrance-free. Obviously fragrance can be a big irritant for sensitive skin, so it makes sense to leave it out of products aimed at those of us who suffer. But quite often I go into the shower looking to unwind with a bit of aromatherapy and boring old fragrance-free body wash just isn't going to do the job.
Which is where Weleda Creamy Body Wash, €10.35, comes in. Also available in Wild Rose, Pomegranate, Lavender and Citrus versions, I've been using Sea Buckthorn and I can't get enough of the juicy citrus fragrance. Based on orange, mandarin and grapefruit essential oils, this is perfect for perking you up on a cold, dark morning and is also refreshing at the end of a long day.
Not one for those who like a good sudsy foam, this body wash is indeed as creamy as the name suggests. It comes out of the tube looking like for all the world like body lotion and spreads nice and easily on the skin, cleansing and refreshing and leaving my skin soft and comfortable. I don't find I need to use a huge amount of it, but this is one that works better applied with my hands rather than with a shower puff or wash cloth.
Advertised
Sesame oil and glycerin in this product are what give it its moisturising properties, while sea buckthorn itself also contains regenerating pro-vitamin A and vitamin E to help soothe and replenish the skin. Definitely one for when you want to feel that bit more pampered in the shower, this one is perfect for the current wintry weather.