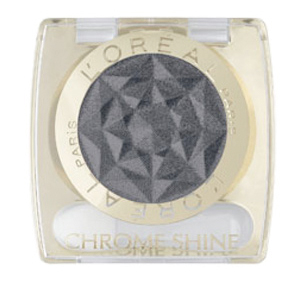 I have a few fail-safe go-tos for a smokey eye. Old hands include Nars' night flight and night clubbing, two beautiful, deep blacks with navy and gold sparkles respectively. Pricey, but I've had the pair for years and probably my only gripe is how crumbly and non-transportable they are, so they always have to stay at home.
Dior's 5 Coleurs in Twilight is another fave, but I think I've just found one that's leapt to the very top of the list. And it's from L'Oreal Paris.
I know. I'm fierce mean about their mascaras, but this is super-duper. The pic above does it absolutely no justice and the packaging is sick (and I don't mean that in a good way), but it's a very good dupe for night clubbing, except, erm, it's nicer. The gold pops far better on the eye than the Nars one, and it's just a lovely, silky-smooth shadow that's packed full of pigment, goes on like a dream and blends really well. Longevity is good too, another bonus.
Advertised
Thumbs up!