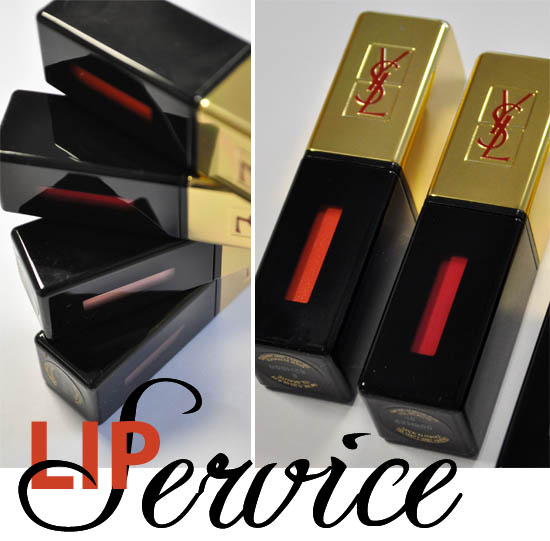 TWENTY SHADES of a new hybrid lipstick fandango launch from YSL nationwide on February 15th (they're exclusively in Brown Thomas stores right this second though!) and I am gawd damn excitamerated about it. GAWD DAMN excited. Even though the press release itself seems a wee bit confused as to what YSL Rouge Pur Couture Vernis a Levres, €33, actually are - "not exactly lipstick, not exactly gloss' - I simply see this as a challenge.
A challenge to paint myself in them and then try all manner of food and drink to see how well they wear and that.
Hang the new year diet. This is important stuff, ladies.
Vital, I'd even say. Civic duty, innit?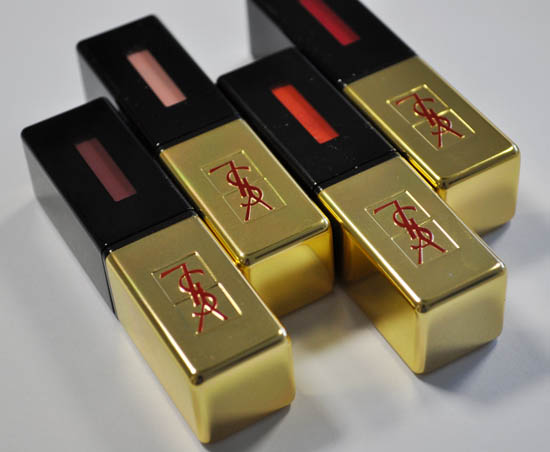 And as this is YSL, packing is gold, glossy and gleaming. Functional, too: that strip down the middle there serves as a handy shade indicator but also lets you know how much product is left. 6ml is contained in each vial - and these are quite sizeable bits of beauty kit; much bigger than your average lipstick, there's a nice bit of heft to them. Of the 20 shades, 18 are permanent, with two limited editions ushering the collection onto counter.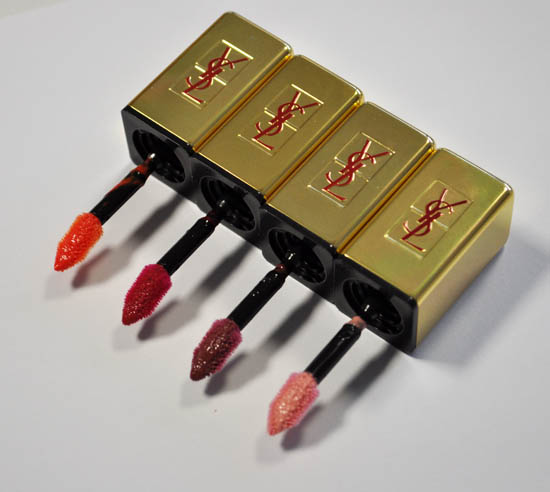 I've four colours to play about with: No8 Orange de Chine, No10 Rouge Philtre, No3 Brun Cachemire and No19 Beige Aquarelle. They look like a bog-standard gloss or liquid lipstick right now - but just wait. Oh just wait. My shots don't accurately show that the wand is bent at an angle too - might not seem much, and no, it's not really, but it helps you place the product accurately on the lips as it happens, so it works well.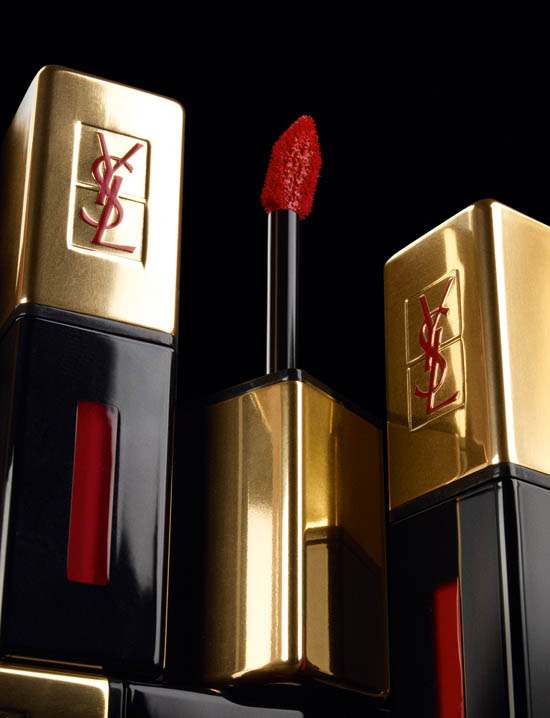 See? Bendy!
So, the deal with these is they're the next generation of lip stain. We're pretty mad for stains on Beaut.ie and we've been through many and varied through the years. Smashbox found huge favour recently, as did Revlon's Just Bitten, but we didn't love Max Factor or Maybelline's offerings all that much.  This though, has to go one better and offers a glossy component along with a skin-staining element.
(Psst: in the US, it looks like Maybelline has something similar in the form of Super Stain Glosses which have just launched, so we may see those here in the near future)
Does it work? Uhuh, it does. Let me demonstrate by visual means of hand swatches:
Advertised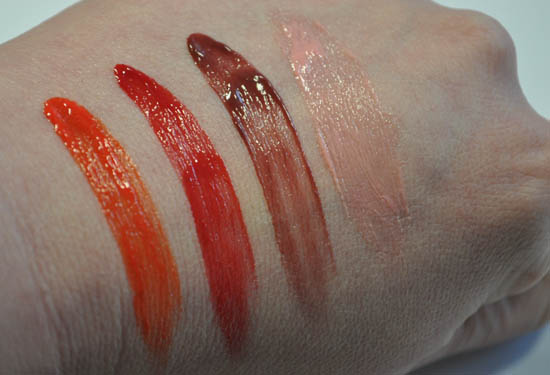 So what I always do when new product arrives is snap and swatch before I ever use it, so you lot get the benefit of images of pristine, un-grubby makeup. Here - it's the least I can do, right? Dutifully swatching, I was impressed by the fluidity of the formula, bright colours and amazing smell - yum, these are deliciously scented.  Once the pix were taken, I wiped the product off my hand and went onto the next set of shots.
Except: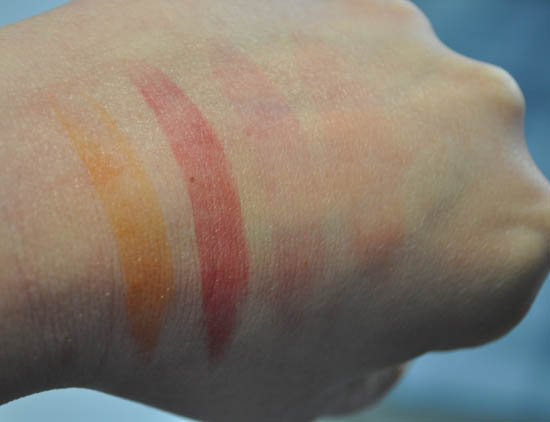 And that was with just a minute or so on my hand. Not bad, I thought. Plus, that scent! It's gorgeous: fruity, juicy, and so strong that, erm, I licked my hand at this point. You know, just to check. In case they might taste nice too.
They don't. SIGH.
Anyway. How would they fare on the lips?
I totally, totally wanted to give Orange de Chine a go first but I'm forever taking pictures of myself in corals and tangerines, so decided to go slightly out of my own comfort zone and trial the more berried Rouge Philtre. Application is a cinch; if you'd ever used the Bourjois Rouge Hi Tech stains then it's a bit of a similar thing to them, a gel-like wet stain that you swish across the lips with a soft, cushioned applicator - YSL's being far superior to Bourjois', naturally.
Rouge Pur Couture Vernis a Levres are a different class of beast though. They don't dry transparent and flat, requiring a balm for comfort. Fancy tech sourced from - get this, the agri-food sector - makes use of emollient and silicone oils which form a film. That means that although it does 'fix' a little, it stays looking semi-glossy, though crucially not sticky; maybe a little tacky at worst. And it's not a lipstick result either - it is a recognisable 'stain effect', if you're a fan of them. I am, so I like it.
Here it is in action: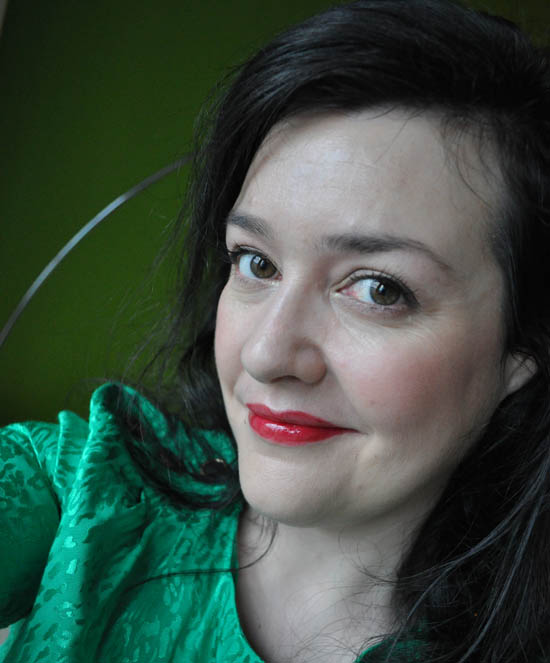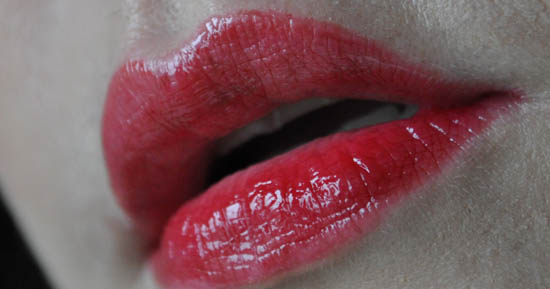 PS: I've got a cold and I'm wrecked so just politely glance past that right?
This lasted well - far better than I'd have expected - and put up with toast and peanut butter-based breakfast plus two cups of coffee with shine still in place,  and was still hanging about at lunchtime, which finished it a lot of it off. So, a good two-to-three hours of decent colour are pretty much an ok expectation. Good in my book - but of course you are paying €33, so yes, you do sort of want it to give you some form of (lip) service, don't you?
Advertised
Comfort-wise, they're not fabulously moisturising and lips did feel a little tight towards the end of the day. But then, they do after a day in lipstick too, so I'm not knocking 'em for that.
All in all - bloody brilliant, YSL. Bravo and then some. I'm clearly loving all over the glossy stainey goodness of Rouge Pur Couture Vernis a Levres and about the only things I'd wish for is (for my sake) more of them and (for everyone's sake), a more affordable price.