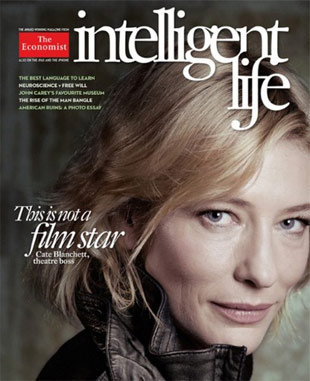 An image of Cate Blanchett appears on the latest cover of American magazine Intelligent Life.  It's not the usual heavily made up and heavily airbrushed image of womanity we're used to seeing on magazine covers. Read posts in the sick of Photoshop category for more examples.
Instead it's Cate in her naturally beautiful early forty something glory.  She's not pretending to be twenty or even that she exists in some parallel Madonna type universe.  And I think because we're not distracted by a blank canvass of unnaturally flawless skin that we can see more of the real woman.  Her steady gaze is captivating and I don't know, maybe I've been looking at this photo for far too long, there's wisdom and experience in those eyes and on that face.  I can't tell you how much I love this image.
Her leather jacket looks battered and much loved and her hair isn't "done" - it's as though she got up in the morning, ran her fingers through it, threw on her jacket and headed off to face the day.
"She looks like what she is, a woman of 42, spending her days in an office, her evenings onstage, and the rest of her time looking after three young children," wrote the magazine's editor, Tim de Lisle.
Movie stars are put on the cover of magazines to sell copies and in doing so they raise both their profile and that of the magazine they're appearing in.  That's why they usually look like the image below.
Advertised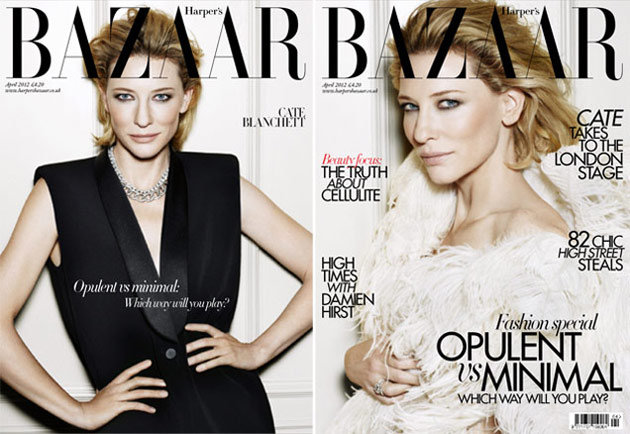 This is Cate on the cover of this months Harper's.  Spot the difference?
Both cover shots, both taken at the same time.  She looks fabulous in both: but while the Harper's cover is generic "movie star does cover spread" the Intellegent Life cover has won my heart and soul.
Advertised
What about you?